Apr 11th – A much awaited day, Bailey bath day.  Think this is the dirties she has ever been!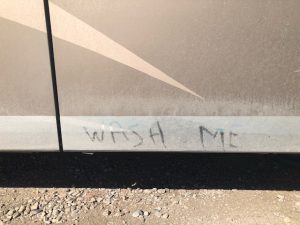 As we're doing our pre-launch routine the TPMS (tire pressure monitoring system) starts crying. The rear tag is at 43lbs, all our other tires are 100-ish lbs.  We call our trucker friend who says we'll be fine, get Bailey fueled & washed, come back then call our road side assistance.
I trust Wilf but am still nervous!   At the Petro-Can they have air so Allan topped the tire up.  I'm feeling better.
Bath time!
Notice the dirt rolling off?
Done, not perfect but so much better.  Allan has a new respect for fire fighters and their handling of hoses.  Allan's 💪, they are aching.
We put off calling our Road Side Assistance cause we have a few busy upcoming days
April 14th –  Moe's Tire to the rescue.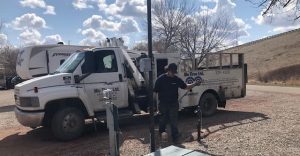 That's Jerod under Bailey.   Trouble is our tool to remove the wheel hub is being held captive in the back compartment.  It's jammed closed.  Not locked just jammed.  All the others open. We asked our Winnebago FB group, solution yank it open… hard and replace the plastic thingy that's going to fly off to release the door.  That done Bing, bang, boom, the wheel is off.
There's a little nail in the tire.  Bailey appears to love Lethbridge, last year while here we had to replace a tire.  Think she doesn't want us to leave?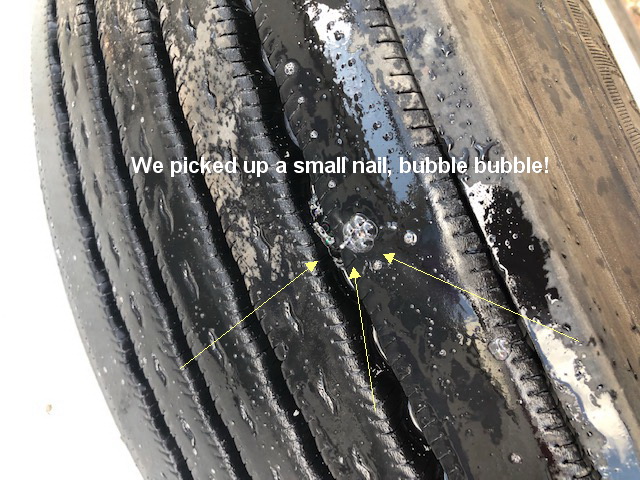 Going for a walk Allan takes another look at the tire..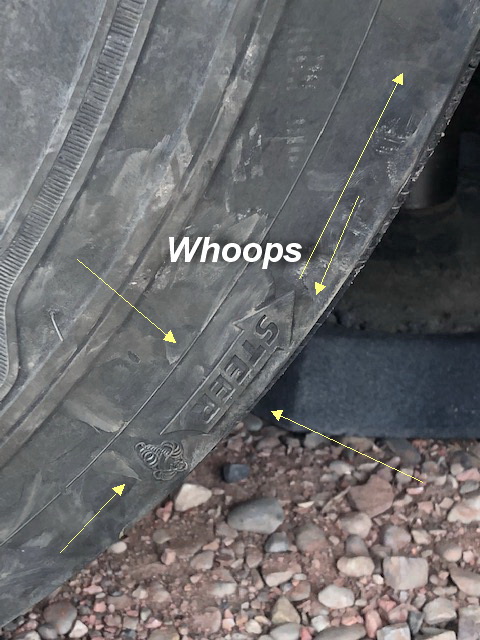 The steer tire was put on backyards.  The steer should be going forward not back as it is now.  Another call and 25 more minutes of Allan's life on the phone with Coachnet,  Moe's Tire is back to flip it. Just happy this didn't happen on a travel day.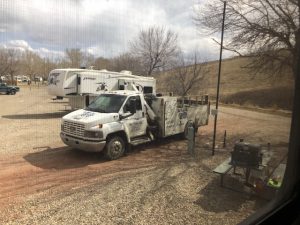 Jared left so bad!  He made no excuses, just felt bad.
Fun thought for the day 🍷🍺🍷