The not so good: The mobile guys came back = another 2-1/2h total 5h into this repair and our awnings and captain chairs are still not working. They spend time in their vehicle, see them on their cell, say they are waiting for Winnebago to offer more assistance.   Will they even try to come back?????
The good: We found a spot for the next 3 months! A great rate for newcomers 🙂  We don't usually luck out we did with
Sun Vista RV Resort 
  So much to do here if you wish to!  And we are permitted to grill on Joey again 🙂
Back at Bailey, it is remove and clean the window screens.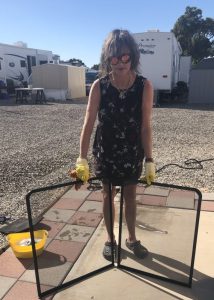 We are pretty proud of the job we did 🙂
DAD (Dave's Auto Detailing) is coming tomorrow for the exterior of both Bailey and Bob.  Finally, hopefully getting rid of all the bugs!
Allan outdid himself making dinner, chicken parmesan with tomato sauce for me
NAKED
for him!  He loves naked!!
Next up, of course the hot tub!!