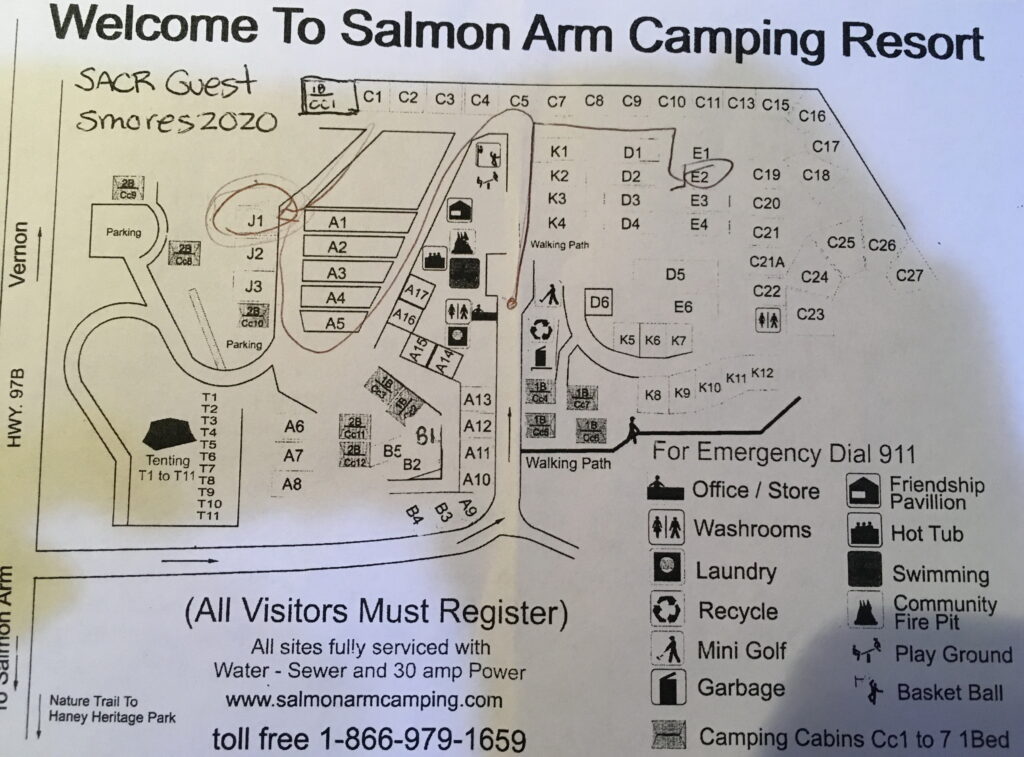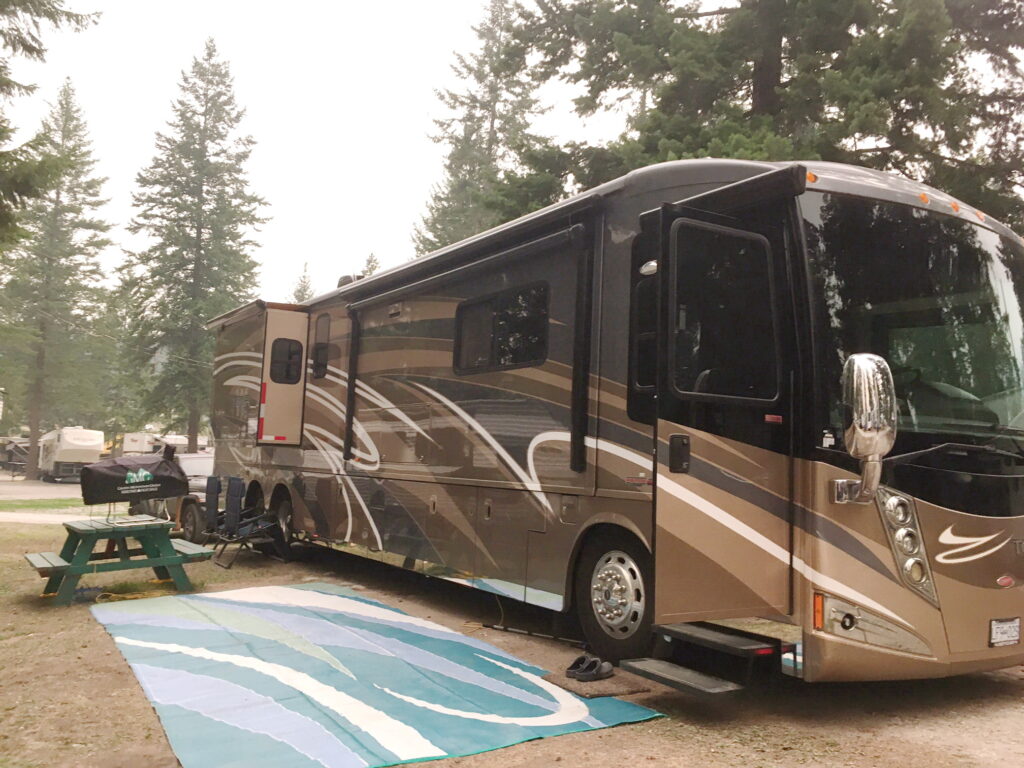 Aug 23rd – Allan loves Sicamous a 30m drive, off we go. We did our "usual" walk around town, then the trail ending up here, at Moose Mulligans Public Eatery's patio for lunch. This is the view 🙂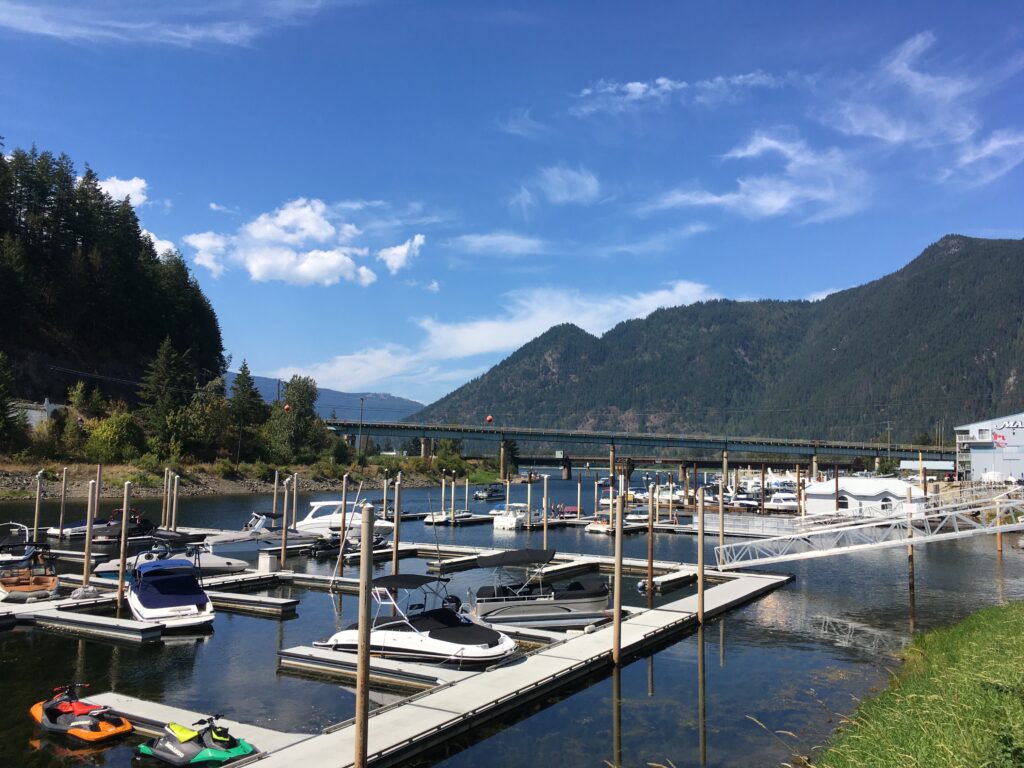 A little, crowded island out there
Great idea! Most of the lakes have these well stocked life preservers
If I liked boating, this would be the place for me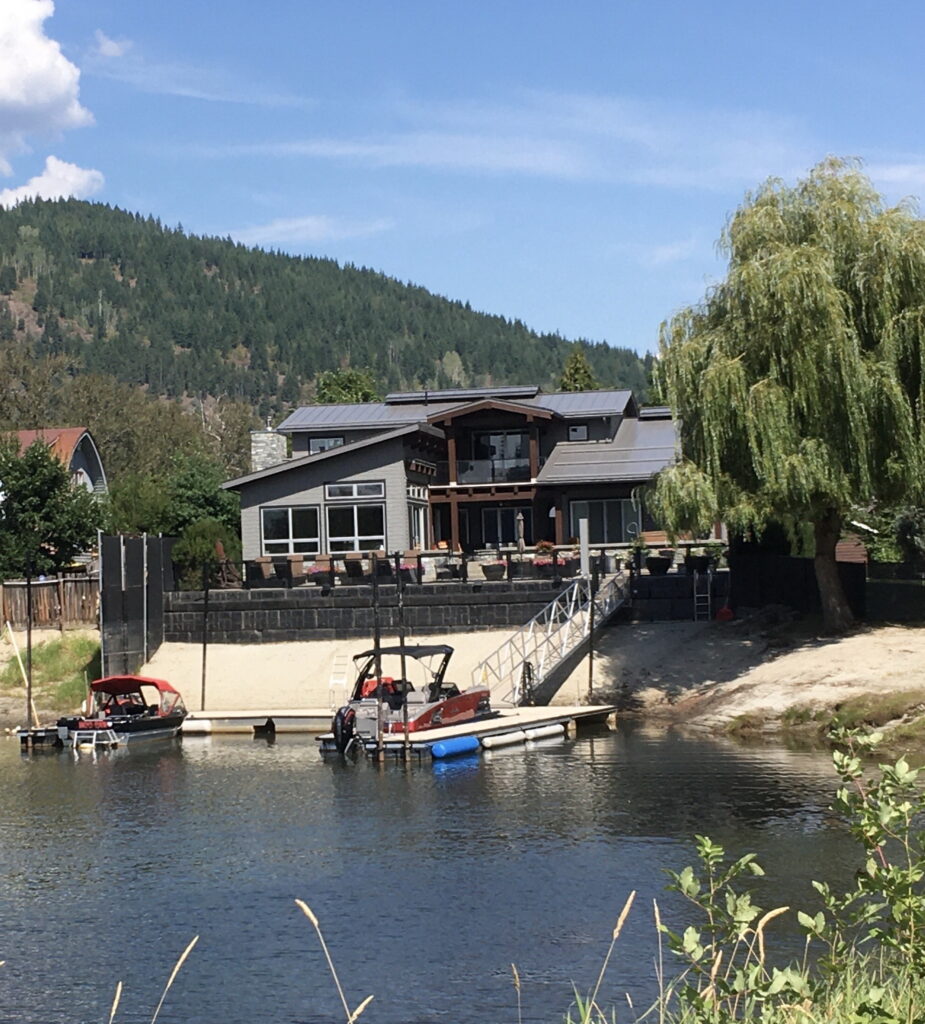 We'd love this fuel price, alas, it is missing the 1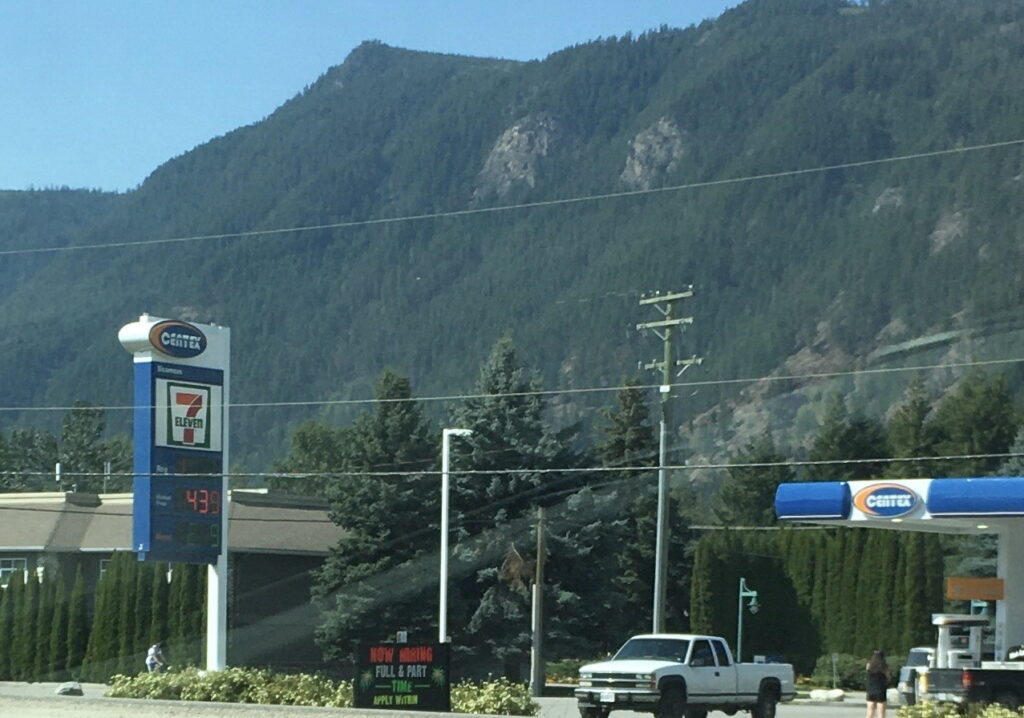 Aug 26th – We need some veggies so were heading to Pedro's Market. We missed the turn, a bit down the road we turn into DeMille's thinking we'd u turn. It looked so inviting we parked.
Who would have thought Allan would turn into the "animal whisperer"??
Llamas are sweet animals but won't hesitate to spit , PLEASE don't!!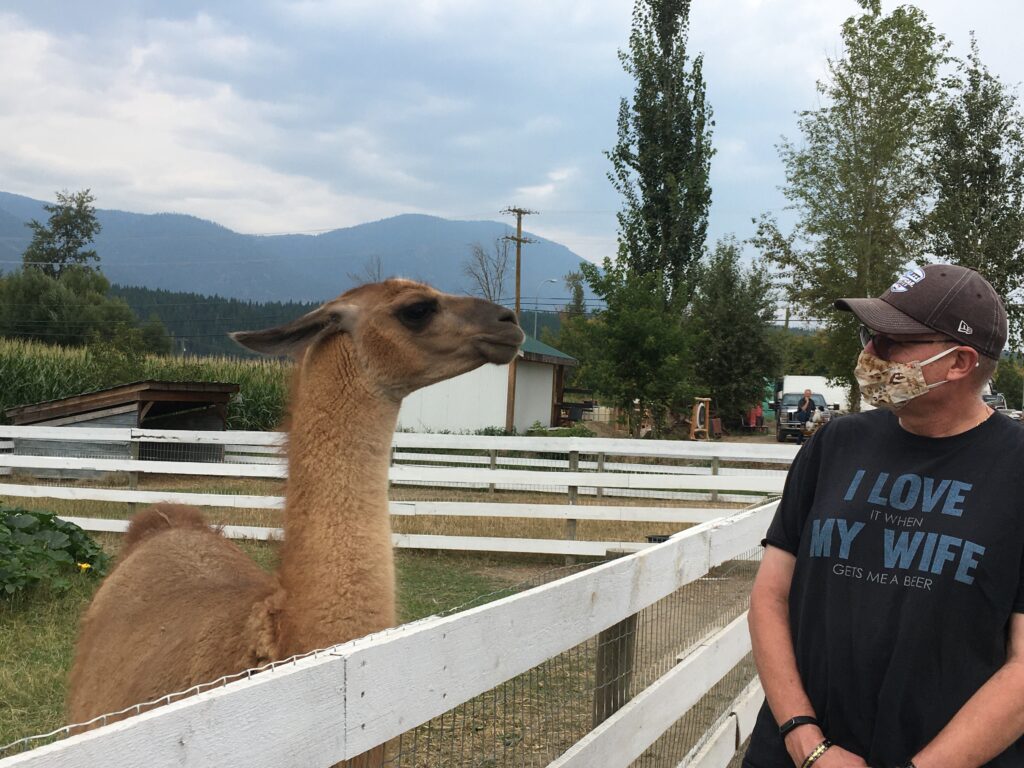 That's better a nice, almost, smile!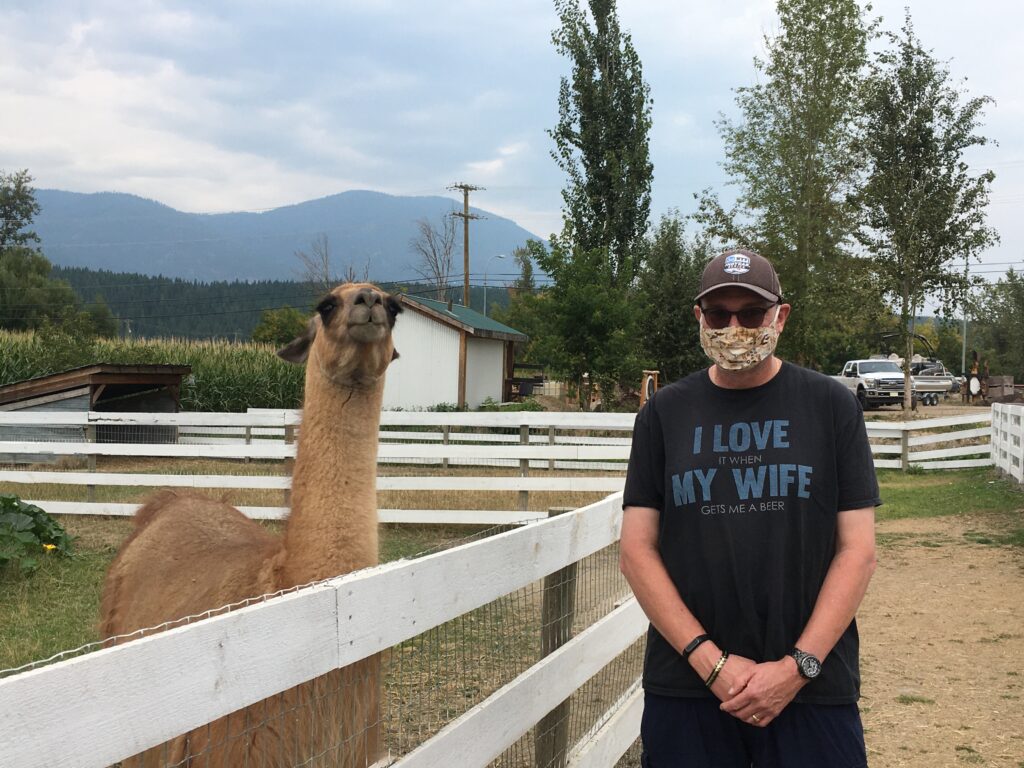 We bought, what turned out to be, delicious London Broil, corn grown on site & cherry peppers.
Never saw cherry peppers before. I followed this recipe I don't often say this but "DANG, they were hot!"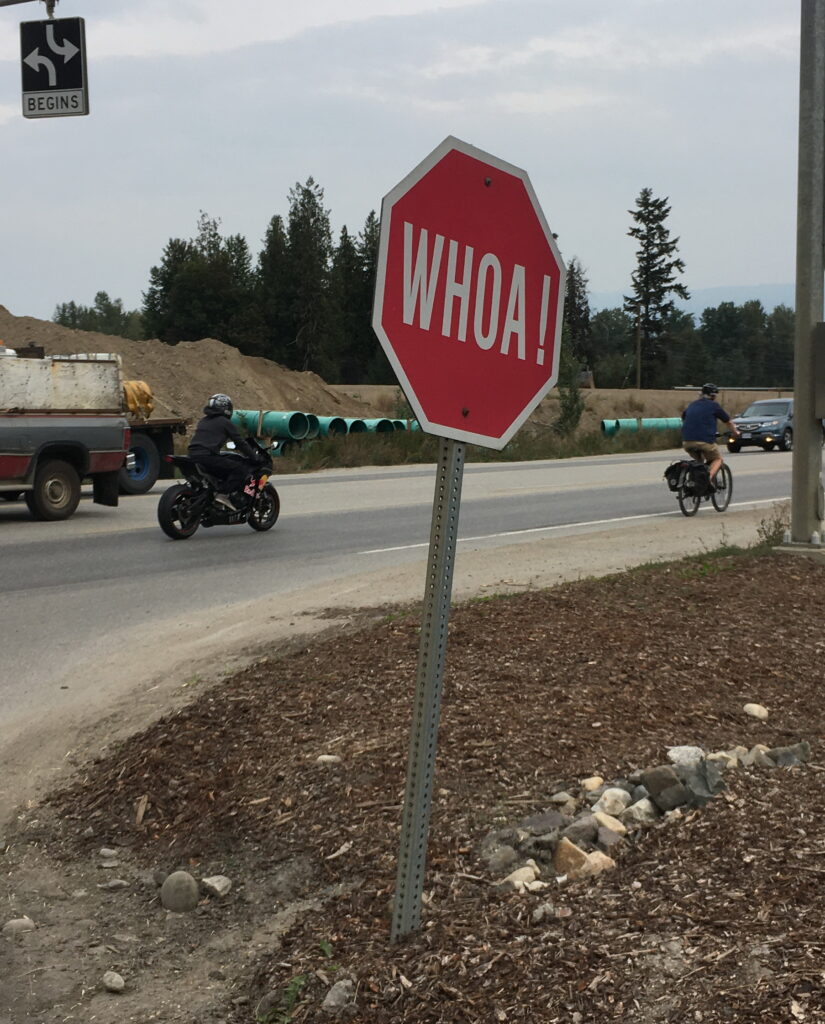 Aug 27th – hang out at the park day! Nice relaxing day doing not much of anything, except mini putt. We hadn't done this for eons!! Kyle makes fun of my videos saying they are too short. Here's another one for you 🙂
Allan has been lax in "smokin" photos, here's one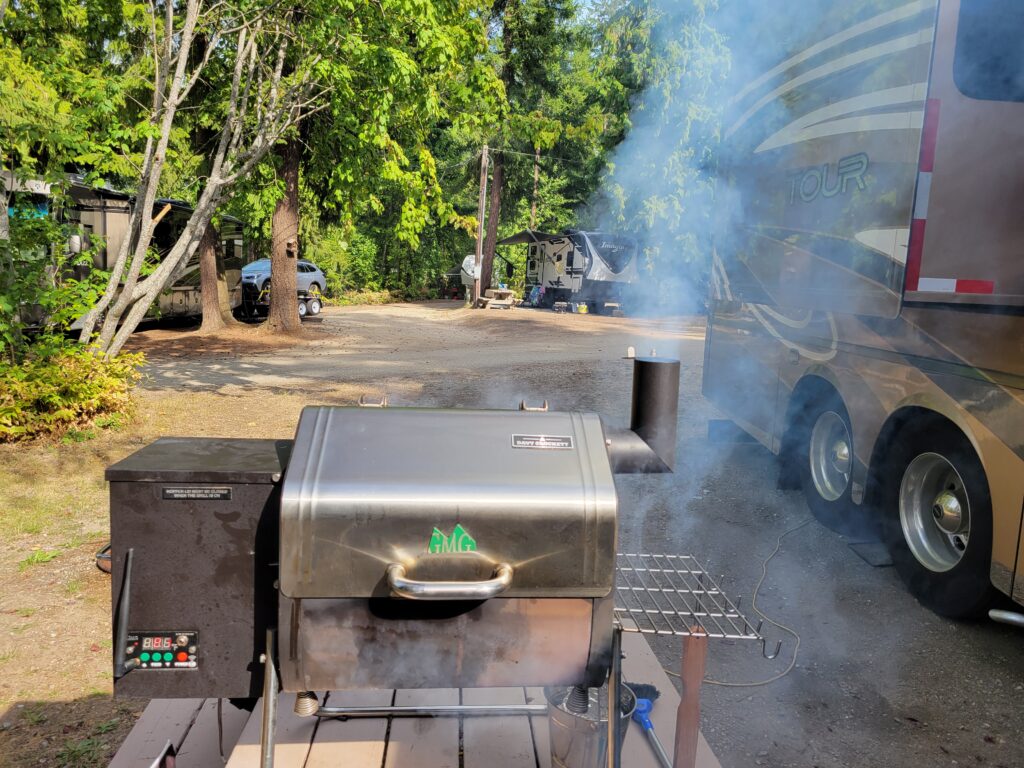 Being cooked, the aforementioned London Broil, corn & cherry peppers. Forget to feature the finished product 🙁
Tip!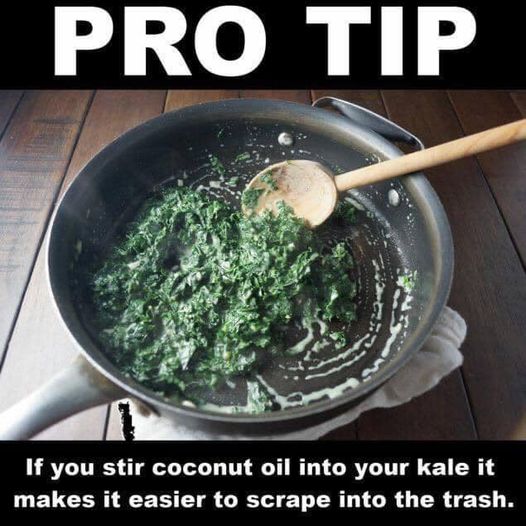 Aug 28th – Salmon Arm's farmers market is today from 8 till 1. We take a drive down, take no photos and do not buy anything. While here we walk to the wharf and take the trail.
First we duck in the parking lot; duck #49
On to the trail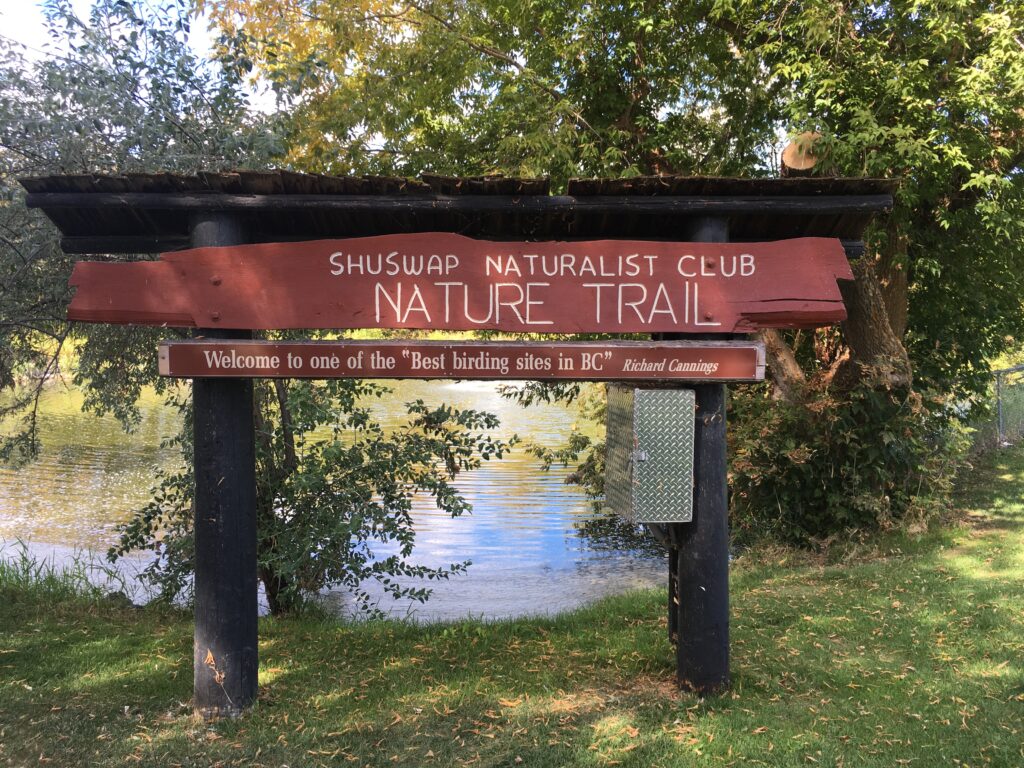 These are the only birds we saw. We're not very good birders 🐦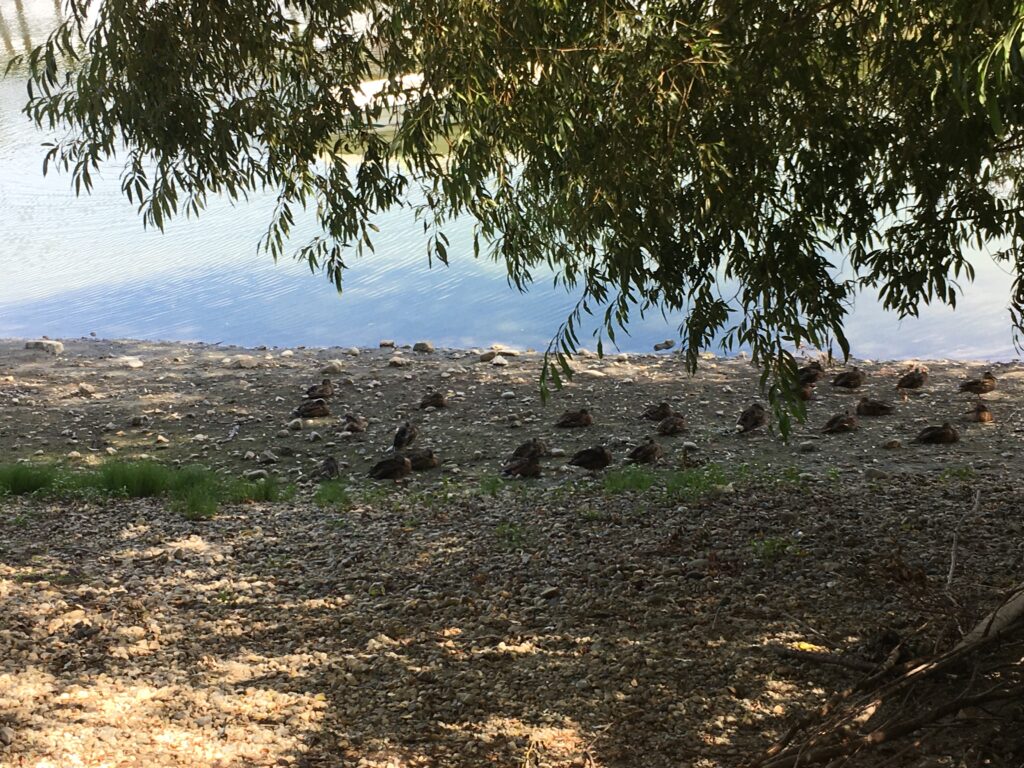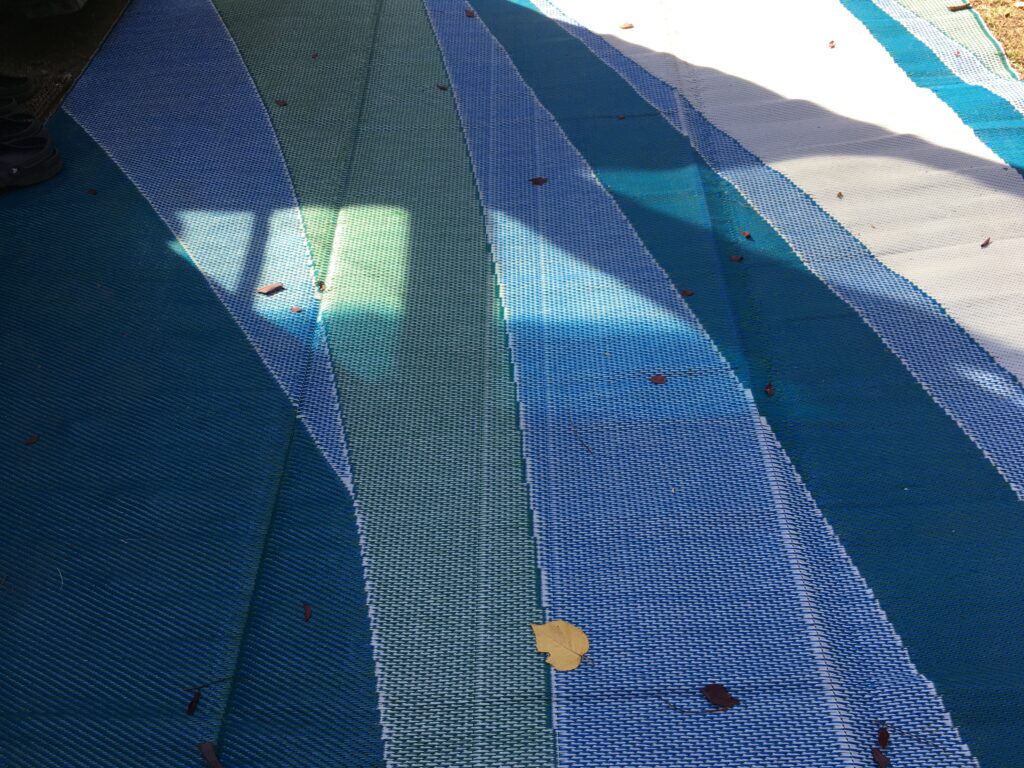 August 30th – Drive to Lake Country day for the final leg of our summer adventure.
But first, pass through Lake Country head to Kelowna to get our slide diagnosed. The living room/kitchen slide hasn't been opened since the end of June when we had closing issues. CoachNet, our service contract company, nor us could find any company capable of diagnosing/repairing the slide.
As we approach Kelowna we spot a hot air balloon. It's closer to the airport than we think it should be, doesn't appear to be advertising.
Turns out it's a hot air balloon ride! Might be fun, if a little pricey.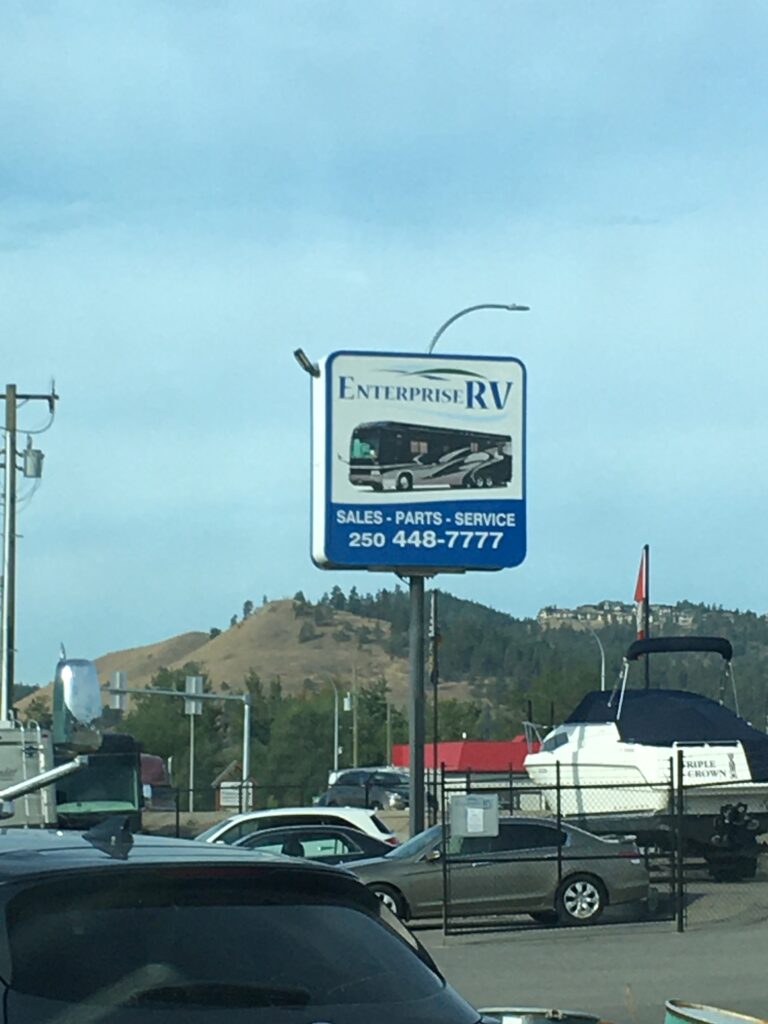 Hello Enterprise, fix us up!!
Bailey has to be there for most of the day = time to kill. Start by driving back to Lake Country, the post office there is an Amazon Locker Allan had a Roku stick sent there, we pick it up then go to Wood Lake RV Park to check out our spot. It's not going to be easy to get in but we'll get it done!! Next stop, Holiday Park where we spent Winter. It was interesting walking through it, there are now many empty spots.
We next go to BC Liquor cause Allan's beer is on sale. We spot this cloud from the parking lot!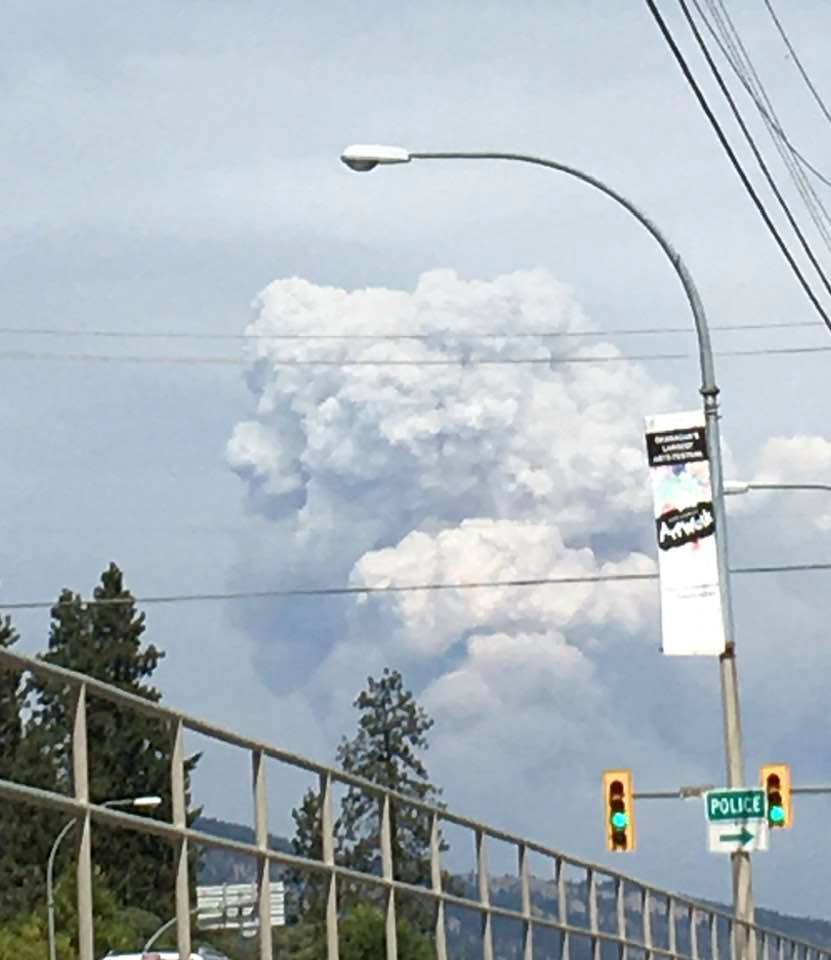 It's now about 230, our feet have walked enough (over 11k steps). We drive by Enterprise, Bailey is in the same spot we left her. Hopefully, they have examined her there. We stop in a parking lot, play a few games of Candy Crush, still no call from Enterprise. We think that must mean they have opened and closed the slide successfully with no issues. Enough speculation, back to Enterprise.
They have done the checks, 4 opens and closes requiring 2 resets. They diagnose the issue as front slide motor.
Although the slide manufacture advised us to not open as the error was classified as major, Norm at Enterprised was confident we could open it at the campground and it would close. Sends us off with these instructions …
Off to the park
Our site #133, it is wide enough but the length is tight. The guy across comes out to say "You'll never fit in that spot". We wiggle, giggle, wiggle some more and we are in!! Excellent driving, or rather parking Allan!!
Are we brave enough to open the slide? I've gotten used to the tigher space. Allan says "Let's do it"
From this…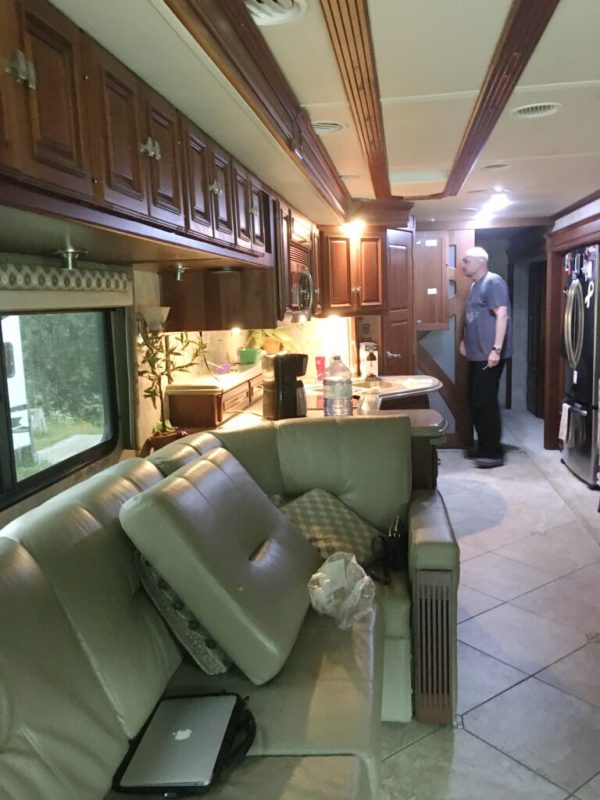 To this…..

August 31st – Great for the wildfires, it's raining and raining! Today is also dentist day, good day for rain.
Between showers we walk the park. The office and boat launch
We're so cheesy!
There is a little beach steps away
Lots of ducks. We hear lots of "quack, quack, quack"