Been looking forward to this excursion! Such beautiful country.  Remember! do not feed the wildlife.
Have to be more on the ball, almost missed the entire sign.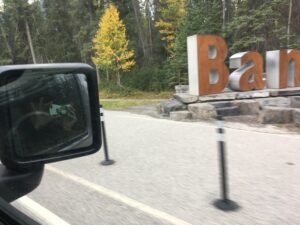 Even though the weather isn't too favourable we are having a blast.  We drive through Banff on the way to the Banff Upper Hot Springs
We know the Springs are closed but thought we'd get a peek.  No such luck!
Head back to Banff,     
and a yummy breakfast at The Maple Leaf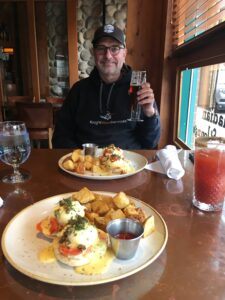 We asked our waitress, (who is originally from Orillia, ON) what are must sees, off the beaten track, as we didn't want to spend time in the cute boutiques and stores even though most were wearing masks.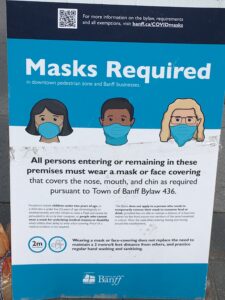 She suggested the Farmers Market and then a walk to a waterfall.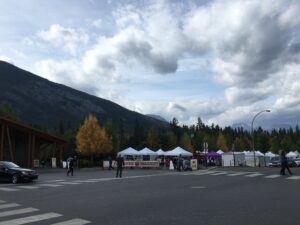 We pass a bridge
keep heading to the falls
Best to use caution!
Drop off is worse than it looks!  If you make it through that section you get to walk at the side of the highway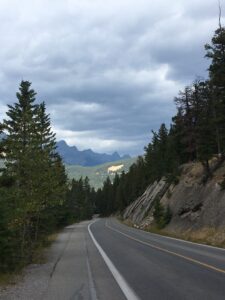 All worthwhile when you get to the falls!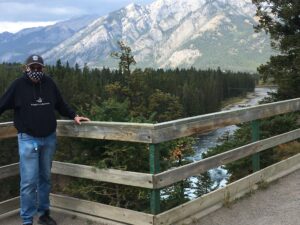 Fairmont     
Head back.  Good bye Banff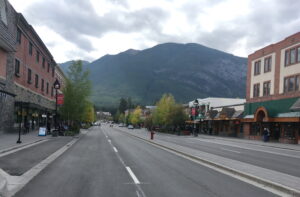 Off to Lake Louise …
We drive through several of these tunnels, they have fences on both sides.                        What are they?? 
        Bear crossings of course!
Oh those clouds!!
No shortage of vehicles at Lake Louise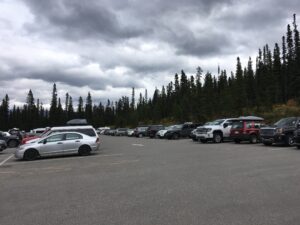 Magnificent Lake Louise!
Go for a hike time.  We decide on the Fairview Lookout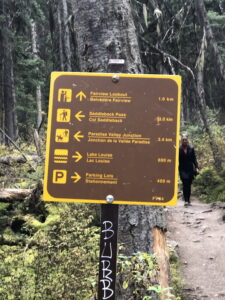 Description which we didn't read until we returned. Lesson learned! "leaving from the boathouse on Lake Louise, this short, uphill hike offers you a unique look at both the lake and the historic Fairmont Chateau Lake Louise."  Oh my goodness, it just about killed me!  I had to stop several  times.  Allan resting with me             
Was it crazy uphill or should I just pack it in???  It was crazy!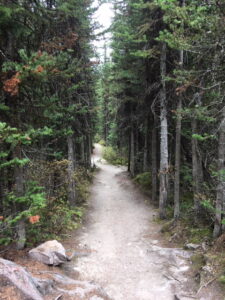 I wish my photos would better depict elevation!
At least we unknowingly made the right decision on how to return! 
  Steep descent, sturdy shoes or hiking boots.
Heading back
Back in Canmore. We predict the next time we are in the area, this camp ground, within walking distance of downtown, will be condos.  Much construction in progress.