I asked the group "Rant & Rave Lake Country" what the must see, does are in the area and got some new ideas.   Now it's time to explore their suggestions,  off we go..  Exploring the rail trail today in the opposite direction we've gone to far.  I think we are supposed to turn right when we enter the trail.  Duck Lake is right I've read many posts how nice it is but we haven't gone yet because of, you know, 🐻 sightings.  They should be hibernating now and we are bringing our coyote/bear spray so we should be good.
Get to the trail entrance, I start one way Allan the other.  Seems, once again, my lack of  geographic awareness has me going the wrong way!  Allan, is disappointed, I am incorrectly turning right as not only are the waterfalls we are seeking require a left turn so does a beer at Woody's Pub.
Pass apples that didn't make it to harvest.  ☹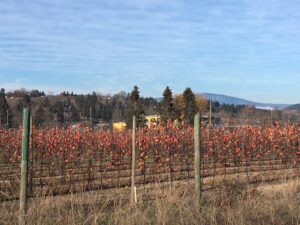 Continue on the trail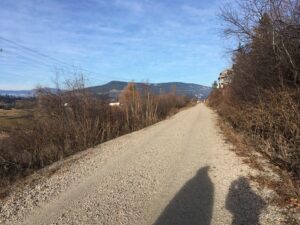 Those shadows!
Cows!        Eat beef!!!
Time to head back, should not have drank so much water while exercising.
Decorated fence on our way 
At Woody's, let's get some pull tickets…
Our tickets
Winners? 
   Figure it out!!
Allan opens the advent calendar today 🙂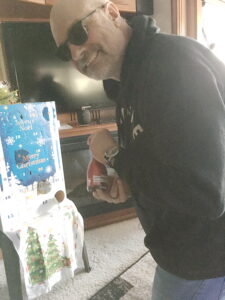 Smiling now!
Today's offering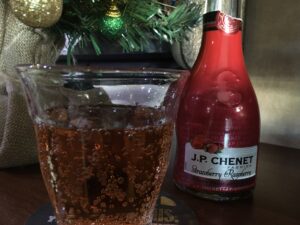 yummy