It was a good night, busy Hwy 97 is directly in front of us but we both slept well.  It was fun watching the various vehicles go by.
Didn't do much, just went for a little walk and played games.
Dinner was delicious Keto pizza.  Toppings: Allan's pulled pork, hot pepperoni, cheese, tomato sauce.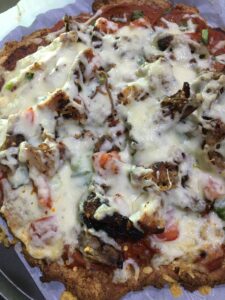 I found Allan a new amber, Thirsty Beaver, to test…
Allan is liking it.  We also found another amber… Faxe  Love the description…  "Golden amber colour with a fine mousse; aromas of bacon bits, medium toasted malt and orange peel notes; very creamy palate with dark malty flavours on the finish."  Allan is liking this one as well, surprise it was  .20 off a can & the can is larger than other tall boys.
Then a wow sky!
Sunday, May 02nd
Allan's favourite pub and brewery, Freddy's is within walking distance.  40m walk – we decided today is the day we walk there for dinner and of course Hark Rider!
Dinner was delicious, we are sharing Dirty Fries & The Cheesy Spicy Chicken.  Yes I had a Hark Rider 🍺 as well.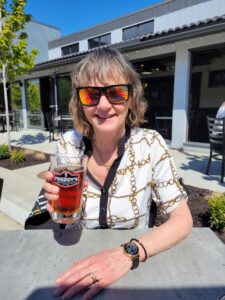 Enterprise told us they would need only one day for our service and fixer up stuff.  We think it would be at least 2 days so are planning our days away from Bailey accordingly.
Monday, May 03rd
Stay away from Bailey day.  Not knowing when Bailey will be done we didn't book another park until May 08th.
Doris told us boondocking at the SuperStore in Vernon is available, we are heading there to check it out.   Next we'll drive to Swan Lake Resort to check their availability, we stayed here on the way to Kelowna in September.  Yes, we can stay till Saturday.  We still think Bailey won't be ready in one day so aren't booking.
On the way to Vernon, I spot a park off to the side, looks nice perhaps we can stay ther for a few day.  Problem is I don't know what the exit is  We'll pay attention on our way back.
Turns out it is Kekuli Provincial Park.  We park at the top of the hill, turns out that is part of the rail trail. There in the valley is the park.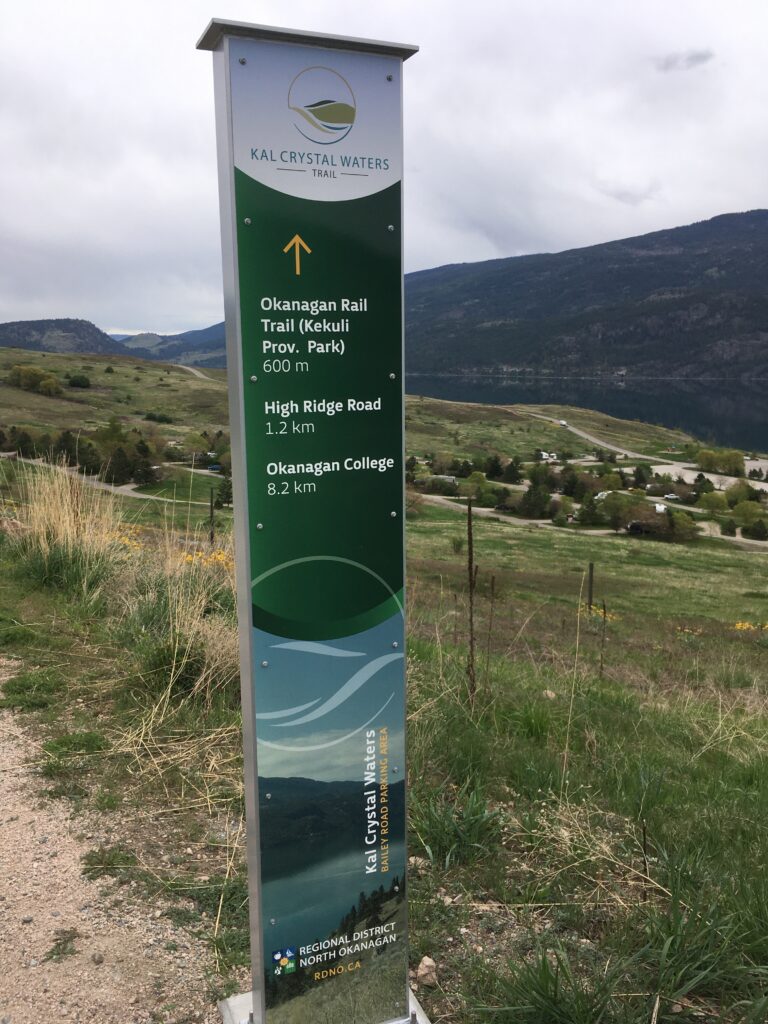 We hike down and are greeted by this fellow…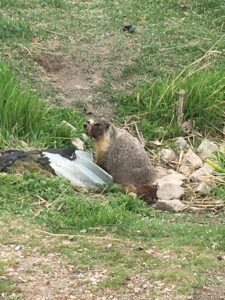 At last!! Wildlife even if only a ground hog.
It is a beautiful park, even if they think they must warn you!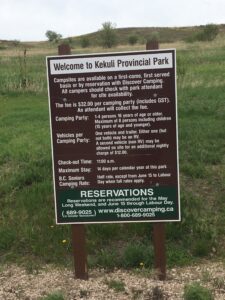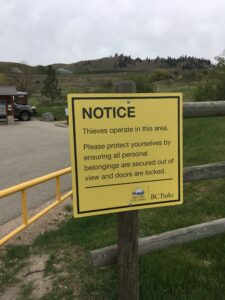 We think Bailey may be too large for the camp roads.  We drive in Bob to check it out.  It's a long, very bumpy road in.  We, try to make it work but decide it isn't worth the stress of trying to fit.  Most sites do not have hook ups, none have sewer.
Next up Great Canadian Oil Change, Bob's first oil change and tire rotation.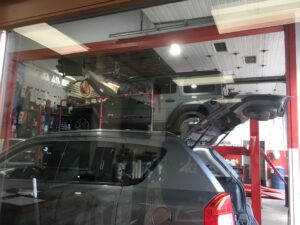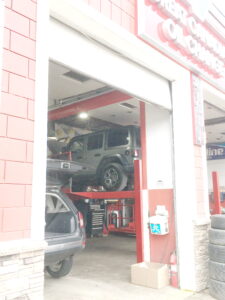 Next stop.  Orchard Park Mall.  Allan desperately needs new running shoes.  The Sketchers he got about a month ago just aren't cutting it, and the OCs are worn.  Out with the old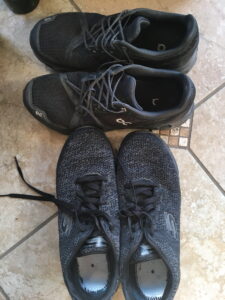 In with the new,  New Balance, that is.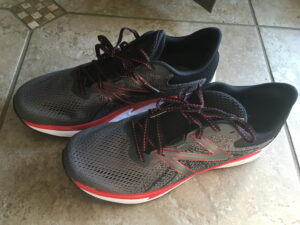 All this done and it still isn't time to head back.  We head to Milestones, who carry Rickards Red on tap.  We  haven't heard from Enterprise all day.  Is that good or bad?
Time to head back.  More than surprised…. Bailey is ready!!
Enterprise is good about letting us stay another night and let us keep Bailey here while we do a Costco run in the morning.  Then Swan Lake for 4 days.
Our last night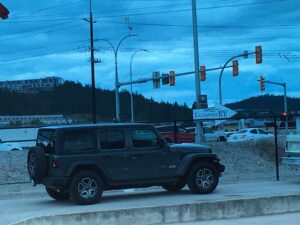 One of the items noted is the inside passenger tire is leaking.  Like Allan thought!  They do not have the equipment to check and their tire guy is booked solid.  This is the same tire Love's flagged but then when they took the tire off couldn't find anything wrong last May on this post just before crossing back into Canada.
Set up at Swan Lake, site 147 the same we had last time we were here.  Super easy in & out.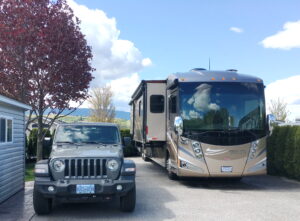 We have road side assistance.  Allan calls and we are covered, they pay for the service call, labour and if we need a new tire for that.  Not included is the valve stem extender.
KalTire was here before roadside called us back to say they were coming!
Meet Tom, our tech, just laying around…
   Click here  Tire off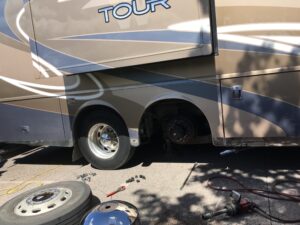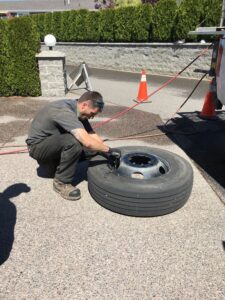 Tom determines it is a leaking valve.                             We see the existing one bubble.  Replace valve
                                  Click Tire on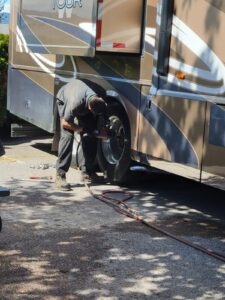 Allan asks Tom what the best tool is for hime to check pressure.  Tom gives Allan a thingy!  Allan doing his check.   Tire pressure gauge works well.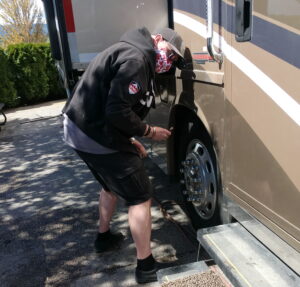 Tire back on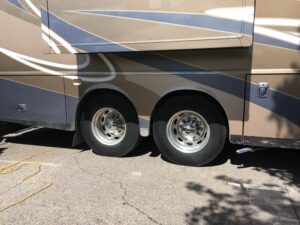 Because inquiring minds want to know… we ask how much the call would have been.  $200 service call, $190/h labour.  We're pleased all it cost us was the $15 for the valve.   We now would strongly recommend KalTire.
And he's off, bye bye