Aug 01st:  Kyle and Megan decided Allan had to have a thing, an 85lb thing,  I was in the shower when it arrived. Allan has been under strict instructions to not look at any deliveries.  I tried but could not move it to the yard.  Decorate, let's decorate…
It was funny, Allan didn't notice it on our way out but when we returned he's like "what's that?" None of your business!!!
Aug 02nd:  Much awaited visit by KyAn.  They wanted to come earlier but we wanted to be a little set up and have a bed for them.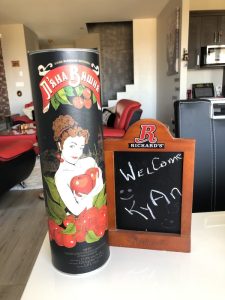 Story behind the cylinder container… It's some wine hooch you heat up, that contains cherries.  Kyle brought it back after his Ukraine deployment.  It is super delicious and like nothing we have here. We enjoyed a bottle with KyAn at their house.  When Kyle gave us the bottle he brought back for us we decided we would enjoy it with them when we purchased our sticks and bricks home.  What we didn't take into consideration was US border crossings!  My nervous level went through the roof crossing cause I didn't want them to take it.   It and I survived!
It's a gift day! We brought them little tokens from Yuma and Los Algodones. Kyle a t-shirt that you wouldn't find here and for Megan a crazy looking giraffe.  She likes giraffes, when we saw this one we said in unison Megan!
Allan's turn!  He delayed his birthday till KyAn were here. So love these people!Whatwa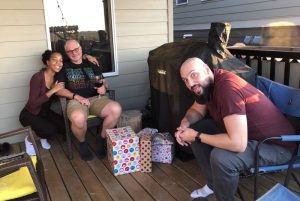 What was in this one?  Father's Day pot & pans!  
We all know how much Allan loves butter tarts.  Will this be a hit?
Out of Perth Ontario, they present BUTTER TART MOONSHINE!
What's a birthday without a new set of PJs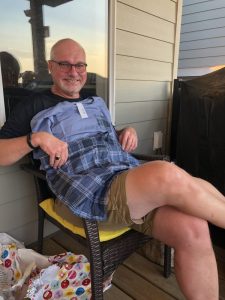 Summer show your legs off PJs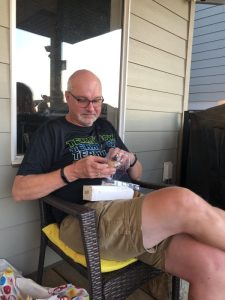 Don't know why I didn't get a photo but the above this is a car dash Hula Girl in memory of Wilf who had one in almost all his vehicles. He had a lot of vehicles.  This is "Kala" installed.  I thought I read Kala is princess today's google reveals "Kala means to "let go or release" in the Hawaiian language."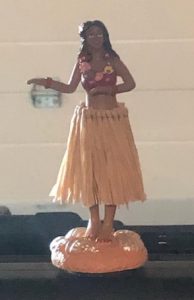 Next up Allan's IndyCar driver race car model.   Will having this car change Allan's luck and he'll start winning?  Doubt it!  ** Fast forward to race day!!  I should have shut up!!! Josef finished 25th, 2 laps down (he should have stayed home) Pato finished 3rd.  I think I should send the race car model back!  Overall Josef is 3rd Pato 5th.  How will the series end??
Allan's gift from KyAn.  He is very excited, not only did they buy it for him but they are also putting it together!   A wonderful gift!
`I made Allan wait for Kyle to help with this installation.  They did a great job!  This is one of my favourite prints.
Finally fire time!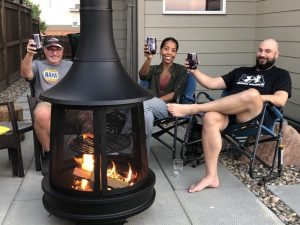 Night falls, time for the special "hooch"  Kyle leaps into action using the pots KyAn got Allan for father's day.  Notice, no handles.  The set comes with 2 handles that are meant to be used to move the pots, it makes storage so easy.  Allan is loving these.
Serving it up                                                             Enjoying, sure is delicious!
Can't get enough of fire photos!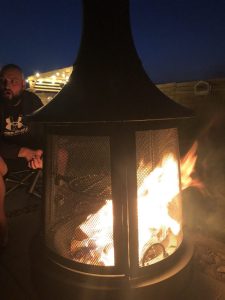 Aug 03rd:  While they are still sleeping we enjoy a hot tub.  We all hot tubbed last night, didn't do photos.
Walk time is followed by "Rewards" their first.
We did a thing where one night KyAn got to choice the meal & cook.  Their selected dish was Perogies with Sausages in a a cream sauce.  We added the Taber corn,aber thinks they have the best corn ever, it is pretty good.  I think we'll make cook night a tradition.
Aug 05th:   Our last walk to see the coulees and some nice houses
Then off we go to Calgary for them to catch their flight.  It was a great visit, we always have such fun with them.
Lucky for them they have lounge access as of course, their WestJet flight was delayed.  No charge for the lovely buffet and drinks makes it bearable.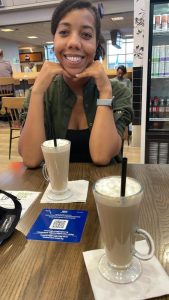 Such a beautiful smile!
Aug 06th:  We take a walk to the neighbouring subdivision that we see across the field from our house.  This is the building we see, turns out it's a very nice retirement home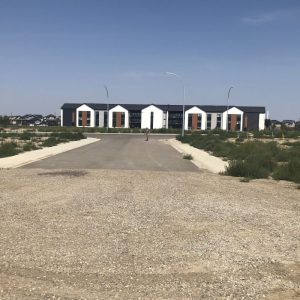 Over there one of those homes is ours!  🙂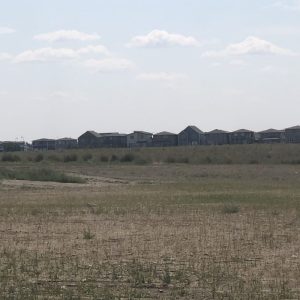 It's that time 🙂  Spot the "Rewards"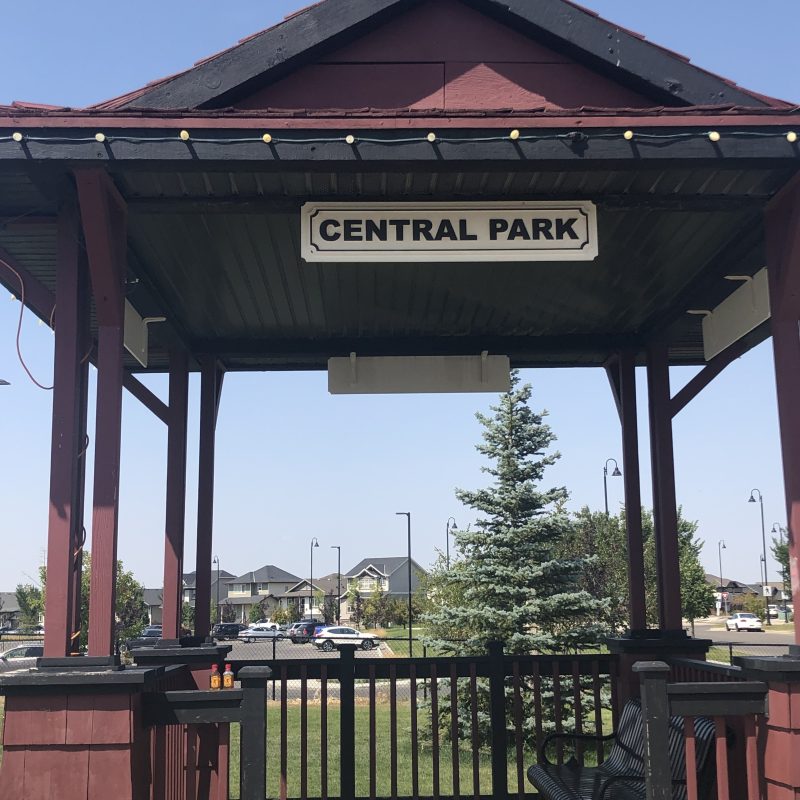 Aug 14th:  Beautiful sunrise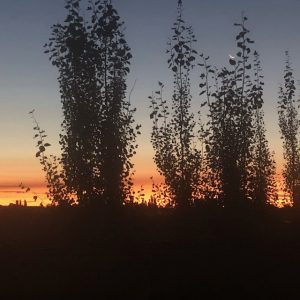 I
 I don't know who was more startled, me or the cat that jumped up onto our shed turned and saw me!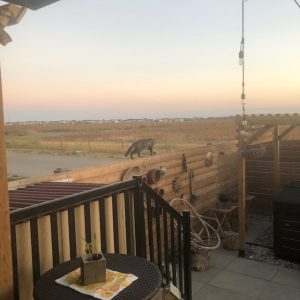 Yep, yet another chip in Bob's windshield..  Allan decided it's time to buy an annual membership to have chips repaired.  We're hoping this insurance will result in no more chips.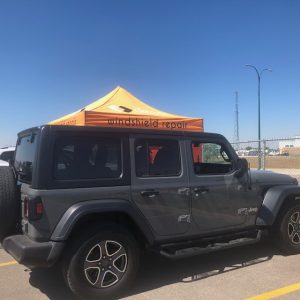 Dice time!  For those that play I'd strongly recommend one  of these dice mats.  It really tames the dice.  Thanks again, KyAn!!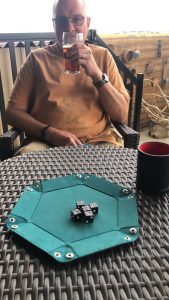 Fire time!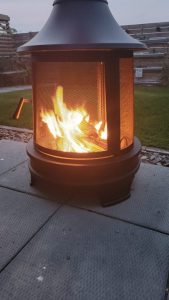 Good to remember…