To enter Barry M. Goldwater Range you must obtain a permit, even if you are not driving.   Requirements: watch a video then complete an exam. Once done the permit is free and lasts from July 01 to Jun 30th.  The permit allows you to explore, target practice, boondock for up to 14 days in any 28 day period.  Nope, not doing that!
"The Barry M. Goldwater Range is the third largest military reservation in the United States. Since its establishment in 1941, the Goldwater Range has served continuously as a tactical air combat training center. The restricted airspace that defines the Goldwater Range covers about 2.7 million acres and contains 57,000 cubic miles of airspace. This airspace extends over most of Cabeza Prieta National Wildlife Refuge, but no ground-based military activities occur there."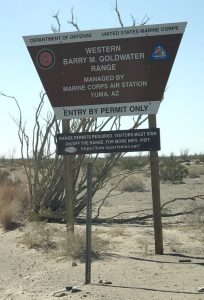 For our first time off roading in quite a while, Allan selects a shorter trail, Fortuna Mine.  The ability to go 25 mph doesn't last long.  Click  The ride begins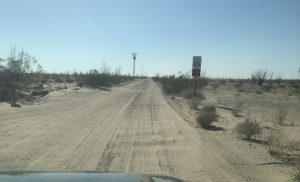 We entered the facility at 1103a by 1112a we were checked to ensure we have our permits!  Good he did as he also gave us an area map which kind of ended up saving us. He also checked this toy, so it's not just us.  He had a taser and a mean looking gun so thought it best not to take a photo of him.
No idea what 54 represents but love the sun 
This way to Fortuna Mine!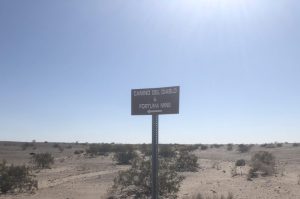 Bob is raring to go…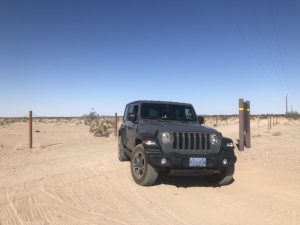 Can this city born Bob make it?  Here's hoping!!
We learn in the video some ordnances may still be active.    We also learn we may encounter rattlesnakes and wildlife.  FF:  We saw none, only one lonely bird and Allan missed it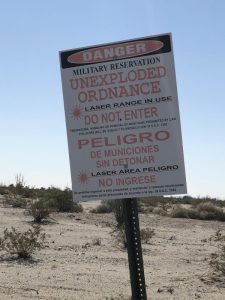 Guidance here is by post.  Our first A5
We wonder how many other toys we will encounter, the first 2 are approaching
Then nothing, no more toys, no more posts. We drive and drive
Bob says "don't worry, you are in good tires"  I'll get you back!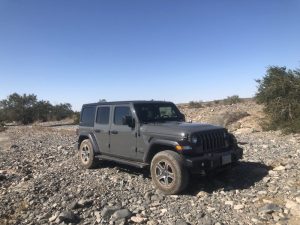 There are two ways we can go.  With no directional posts to help, we get out and each walk up the "road" a bit
We think we did an incorrect turn somewhere cause timing wise we should be at Fortuna Mines.  Such exciting times, with amazing scenery.
Finally, post A6A
Drive and drive and drive some more!  In the distance we see what we thing may be a cell tower.  Hopefully, we'll regain cell service!
Nope, wrong again it's an emergency call tower.  There are no markers to it, nothing on the map – what's the chances you'll run into distress in front of this? A directional post would be helpful.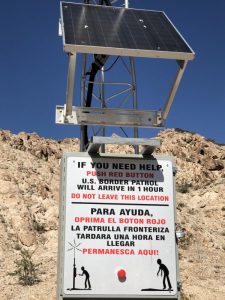 On we go.. click Bumpty, bump
No directional post but a point of interest…
It wasn't that interesting
Very nice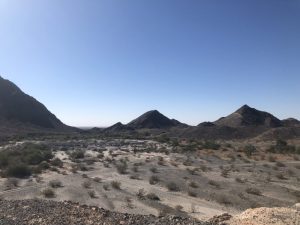 Are we just totally lost?
Nope!  When we least expect to, we turn the corner and there it is!  Made it to Fantuna Mine!
This guy likely found Fantuna quicker than we did, LOL

The road back!  We are feeling a little relieved
The closer we get to civilization, the quicker we directional posts appear.  You know, when you really don't need them
To the left of the post, there it is Telegraph Hill that we still can't believe we climbed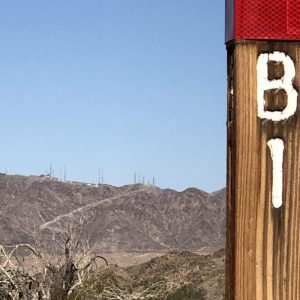 We're BACK!!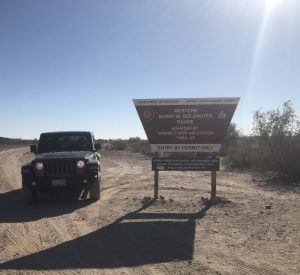 Will Allan remember how to drive on a real road?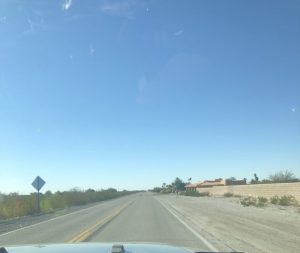 Back at Bailey we check out what our friend, Miranda calls "Desert Pinstriping"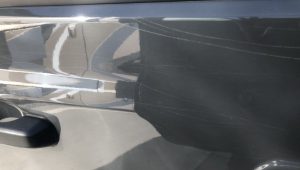 It sounds worse when it happens, than chalk on a chalkboard!