We are not anxious to have our vacation end but as it must we decide we will cross the border at Peace Bridge @PeaceBridgeAuth then find a campground.
Me blogging away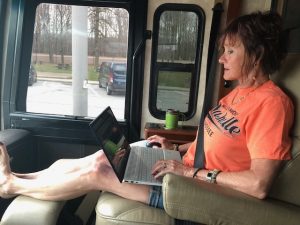 Off we go, leave Westerville at 7:15a, km 51,975.   Allan says we'll get fuel on the US side as it is cheaper but the story of our lives goes as…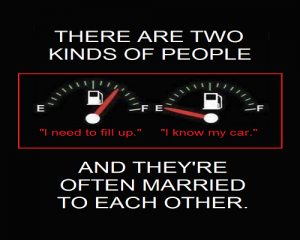 We drive through Pennsylvania, finally get a welcome sign
Then New York.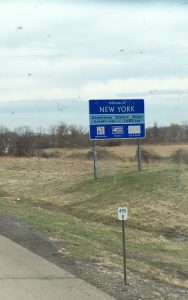 As our luck would have it, we have to detour through a part of Buffalo that is totally unfamiliar even to Allan who used to be in Buffalo twice a week.  Our GPS are  not much help as they want to send us back to the highway that is closed.  Turn right or left?  We feel we chose incorrectly so get turned around.  Whoops we were correct the first time so turn around again.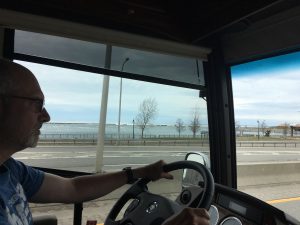 Finally see the Peace Bridge only to discover it is under major renos, one narrow lane each direction.
Made it to border crossing, fortunately it wasn't too busy.  For those keeping track, NO we didn't get fuel.
We pick a line not realizing the border crossing guard was 18 and his first day on the job.  He just couldn't understand the concept of storing Bailey in Phoenix.  He asked several time about that, weapons and cannabis.  Yep, pulls us over to be searched.  2 burly guards come over, tell us to get out and stand way back there behind the yellow line.  We have nothing we're not supposed to have so we aren't concerned BUT we are dressed in short sleeves shirts and shorts and boy was it freezing!!
They get done and now are friendlier and we get back in.  Now to drive through the last obstacle, the super duper narrow gate.  To freak you out more there are tons of scrape marks, Allan makes it through perfectly.
Back home in Canada and it starts to pour.  Our plan is to find a campground and play games for the rest of the day.  Us experienced RVers didn't realize campgrounds do not open until May.  We pull over to find the closest, reliable Walmart.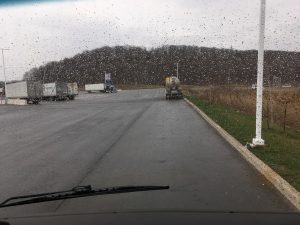 Find one in St. Catharines on Welland St, off we head anxious to just park for the night.  Arrive to a full parking lot and no where we can park and open our bedroom slide.  Canadian Tire is on the other side of the parking lot, space there but also a sign that reads "No Overnight Parking"  Not too friendly of them, Allan suggests it may be a town by-law.
Not giving up so easily we head to the next Walmart in Fairview Mall. This one shares the parking lot with an Ikea but we find a good spot and set up.  Hope we are not asked to leave

Finally beer and Long Beach race practice.