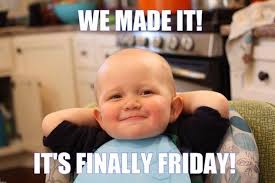 I decide enough of the ankle pampering, let's embrace this cloudy day and go a steppin somewhere we haven't been.
Destination: Rail Trail towards downtown Kelowna
A favourite Friday listen…
Ara & Toby,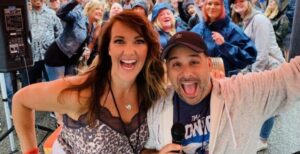 local morning radio hosts on Beach Radio 103.1 do a segment "The Week That Was".  Toby compiles the week's headlines and Ara turns them into a rap.  A must listen, click & scoll down a bit.
    Time to go, find a parking spot – Bob looks sad on his own, we'll be back!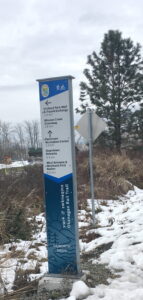 Downtown 5.5k – we can do this!
They said the trail was paved and snow cleared,  it is but we thought it would be more picturous.  It just runs along the highway.
House on the hill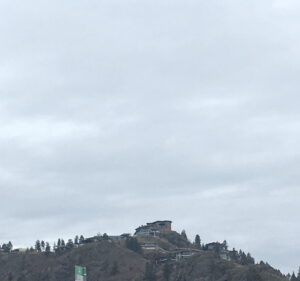 View galour!
Kelowna is NOT responsible, so there!
We are 1.5k away from downtown Kelowna.  The trail is now the sidewalk, we opt to turn back.
We pass a home with interesting lawn decorations.                                                                       Wheelbarrows
 Our treat will be Dirty Fries
& a pint at Freddy's.  Glad we decided to share.  They are delicious and huge.
We've been here a few times, only today did I make the connection, dah (also just learned dah means dum as hell)  I thought it was just "Dah" Certainly fits here!
Sign in Freddy's…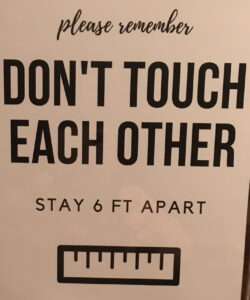 Home we go to play DOS and put on an ice pack.  The better we get at DOS, the more fun.   Interesting hands
First game to me, 2nd to Allan, time for the news so no tie breaker.
Today's steps:  11870  😃 
It's 145am, I hear talking in the other room  Allan is sleeping.  What's going on?
The TV randomly turns itself on!  Or did it?  We've had a few strange things perhaps it is really a…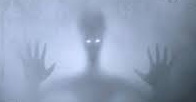 Allan doesn't wake up LOL       Back to bed I go.