03/05:  Vegas for 3 nights, yahoo.
First night at Chez Volocity Truck Repair for our annual Bailey service and especially to get the hose installed they were unable to get our last visit.  The hose is for our dash ac; coming into summer I hope we'll need ac.  John, our service rep said Bailey would be ready today, we didn't really think so, we booked 2 nights at the hotel.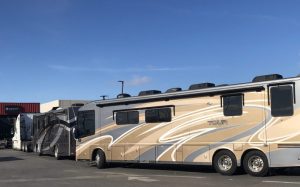 patiently waiting her turn in line
We leave to visit Vegas, not liking the snow even if it's in the mountains 
Vegas traffic is crazy, lots of construction & road repair.  We made it!
We played for a bit, our standard $20/ea for the day.  I'm up $13.50,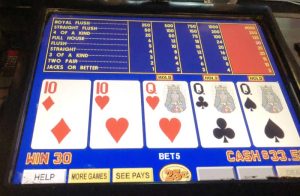 Allan not so much.  My first ever trip here, a woman said "always remember Vegas is not built on winners"
A walk around, the sites never get old
Looks like we're too late to eat here! 
About mid-day we get the call!  The hose for the air dryer requires replacement, they can get the part but not until 1030ish tomorrow, takes about 1-1/2h to install. We were smart to book the extra night.
It's a tad windy, we enter a mall and stumble across a cereal eating contest.  Allan was not impressed!  Click Cereal Eating if you dare! The dude on the right, single spooning it,doesn' stand a chance. I guess we didn't stay for the finish.
It's a big walk day, just a guy having a rest, loving his new t-shirt!
Heading back, a well deserved drink @ 21+k steps  🙂 🍻cheers!
We end the day with