Our home town race!  Allan's been going since it's inception in 1986.  I've been going since I've had Allan.  Try as hard as Allan did we could not gain permission to bring Bailey so we stayed at the Delta Hotel Toronto. This year's room was the nicest ever.  Bathroom was floor to ceiling windows. Love the view!
Pre-race activity… James Hinchcliffe @Hinchtown insisted on taking photos with us prior to the race. How could we refuse???
So glad the Stadium Super Trucks were back.  They are such fun!! Certainly a must see!!  Thanks @RobbyGordon
Next up Nascar Pinty's  Series.
Everyone's hero!  @robertwikens drove an Arrow-modified Acura NSX in the pre-race ceremonies.  He also gave the command for the 22 IndyCar drivers to start their engines.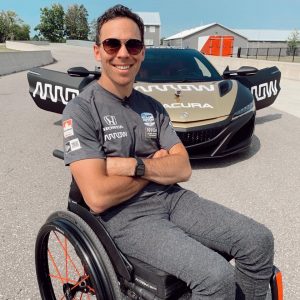 The highlight of the weekend IndyCar  (Whoops too busy enjoying the race to take photos)