My poor old heart can't take the excitement for much longer.  We are down one slide, the kitchen side, this morning the big slide didn't want to retract.  We haven't had a  problem with it before.  It does close, will it open/close in Rupert??  Locals refer to Prince Rupert as only Rupert 🙂
We leave at 810a, 71,716km
We decided to get fuel at RaceTrac, ready for this, FULL SERVICE!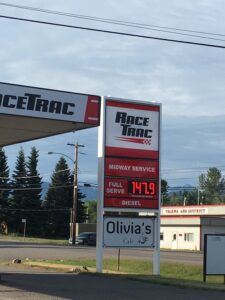 When is the last time you had full service?  This station also has propane in a spot we can get to.  This will be the first time, since having Bailey, we get the propane filled.  Such excitement.  The fill was very quick,  Allan doesn't believe that for $39.15 the tank is full.  The indoor gauge says F 🙂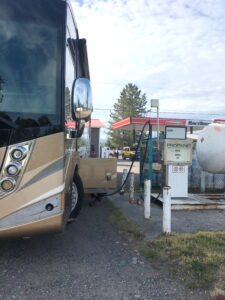 Entering Smithers we spot a helicopter coming in for a landing.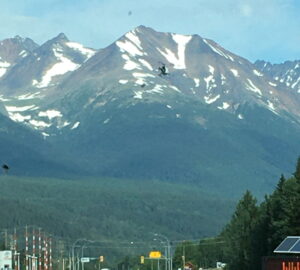 We're on the way, missed the Telkwa milage sign-this one is outside Smithers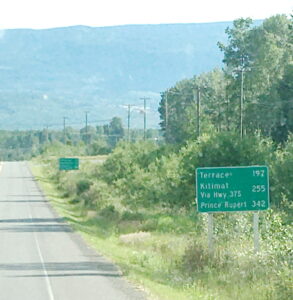 Beautiful BC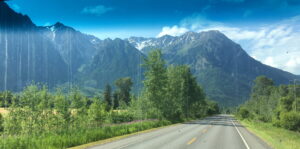 The Bulkley River is a major tributary of the Skeena River. It is 257 kilometres (160 mi) long with a drainage basin covering 12,400 square kilometres (4,800 sq mi).
Much of the Bulkey is paralleled by Highway 16, it is as fast moving and muddy here as it was in Telkwa.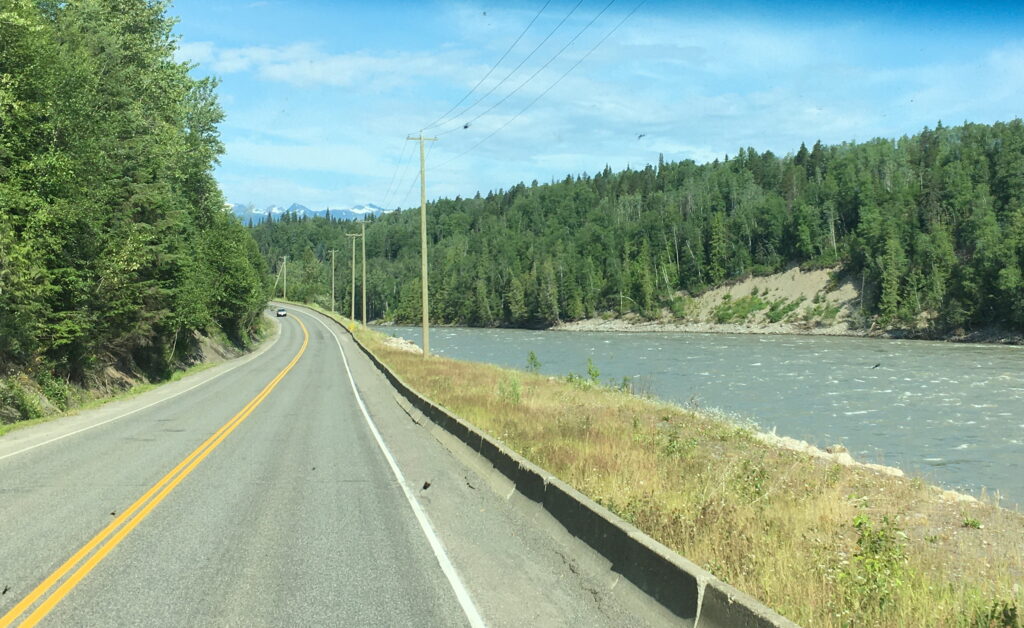 It flows west from Bulkley Lake past Perow and is joined near Houston by the Morice River, its major tributary. The Bulkley continues north past Quick, Telkwa and Smithers. It then meets the Skeena River near Hazelton.
All this to say "Allan, we will  not find the place it flows into the Pacific Ocean as you wanted to, BUT we can find where the Skeena does :)"
Skeena River, 580 km long, rises in the northern interior of BC and flows generally SW, draining about 54 000 km, to meet the Pacific Ocean at Chatham Sound south of Prince Rupert. The second-largest river (after the Fraser River) entirely within BC, its main tributaries are the Bulkley and Babine rivers.   So ends this lesson!!
We stopped for a bum break at 11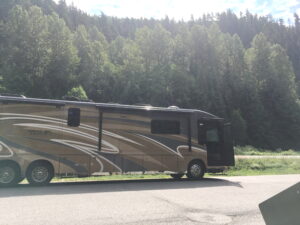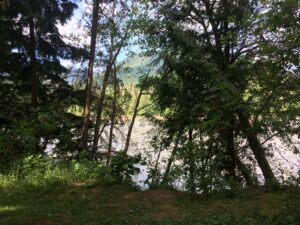 Back on the road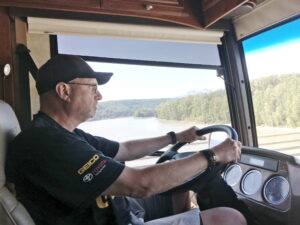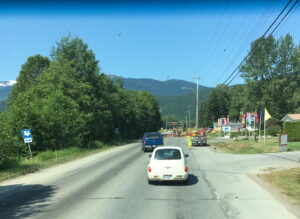 Found the required construction hold up
More prettiness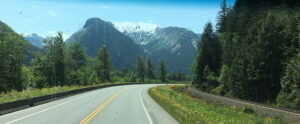 Here we are!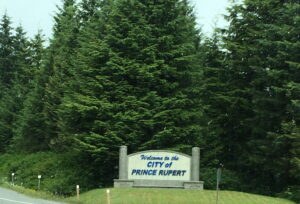 We arrive at 140.  Check in isn't until 2.  We use the time to unhook Bob and walk around the park.   
We see site 15 and hope we don't it, site 49 is what we'd like.
In the parking lot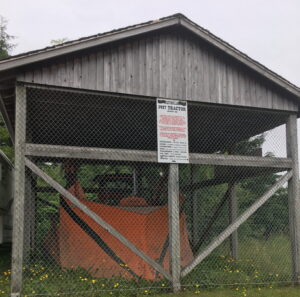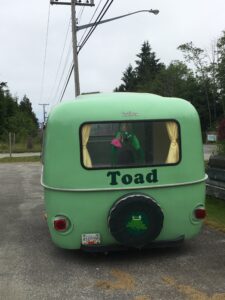 A true "toad"
Of course we get site 15, site 49 is actually only 26′.  What we though was one site they rent as 2.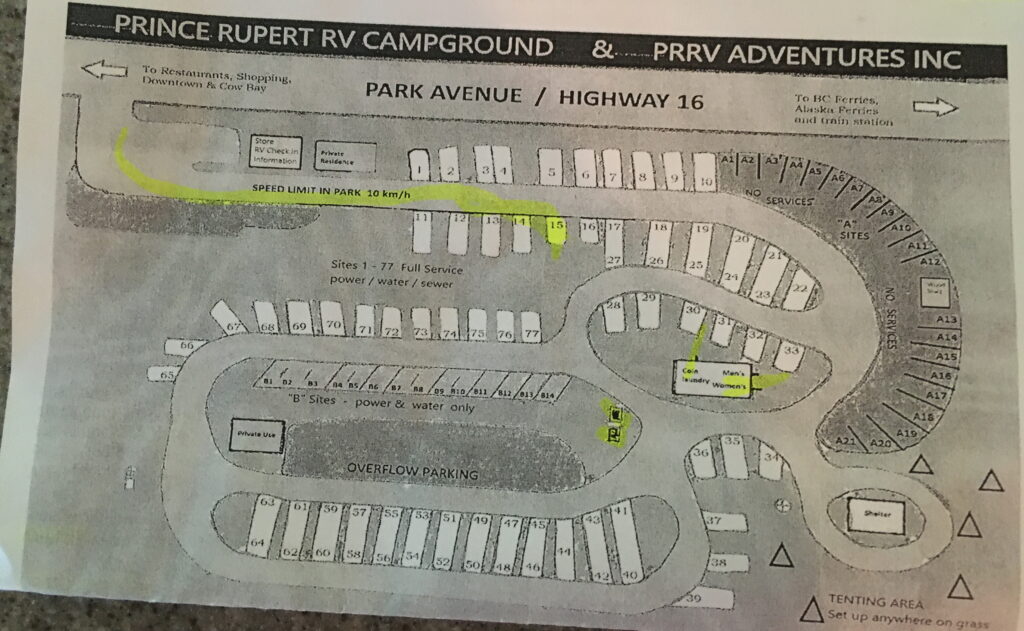 Our front yard.  We're super impressed!!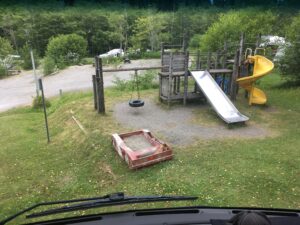 We get set up, hold my breath!  Yes the slide opens.  All's good.
Wait, not so fast, this is a 30amp site – our 50amp to 30amp adapter is not working.  No problem, let's go to Canadian Tire.   Allan has wanted a replacement as this one is slightly charred but has worked.
Wait, there is no Canadian Tire. We'd swear we saw a CT tractor/trailer.
We go to Walmart, NAPA, Home Hardware no one has them.  Everyone we asks says, we have to go to Terrace to get one.  We call Canadian Tire Terrace, they don't have one.  The RV dealer in Terrace isn't open on Mondays.  Terrace is 1-1/2h back the way we came.  By  now it is past 3p, I have no interest in going to Terrace.
Sitting in the parking lot, we call the park, no they don't sell them either-how stupid is that?? She also says you have to go to Terrace.
Allan comes up with the idea to try and fix it.
Back to the park we go!  My super hero, had it repaired in no time.
Maybe tomorrow will change our opinion of Rupert so far, we are not fans.