Today's drive 3h9m, we are on the road at 845a, 71,072km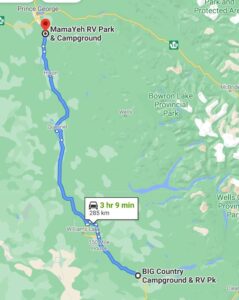 The drive is happily, uneventful.  I spent more time working on yesterday's post than taking photos.  There are only so many mountain photos to take. 

I'm a little concerned.  We have an appointment in Prince George to get the exhaust reattached.  My concern is it is downtown-ish.  Allan selected this place cause they do trucks, but what trucks.  When Allan called to make the appointment the guy said they had another Class A in there last week.  We will fit, maybe we just have to fold in the mirrors.  Our mirrors do not fold.
Back on the trip, we do hit our normal construction, this section of the road was very agitating  (good for the tanks, not so good for us)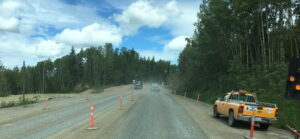 What does"Drive With Care" mean? Tips on how to avoid wildlife maybe more helpful cause we always drive with care.
We arrive at MamaYeh at 12.22.  This is the smallest office we've seen.  They normally include a store, not this one and you can't buy firewood.  Thankfully we brought some from Sicamous.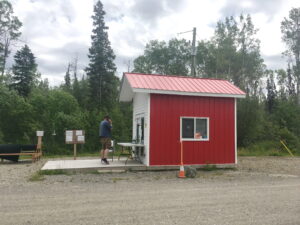 Inside is this notice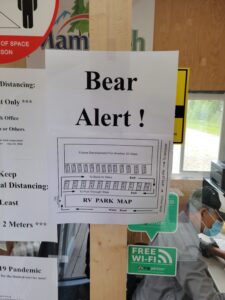 With Bob parked in our spot (feels weird to leave Bob behind) we head to the muffler fixer. 
Unfortunately my concerns turn real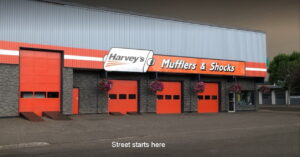 No way will Bailey fit.  They have Allan back up to the door, one of the dudes, and me, are backing Allan up.  Dude keeps backing Allan up while I am frantically signaling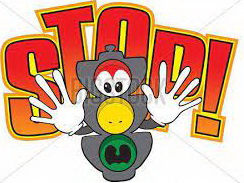 Dude wasn't looking up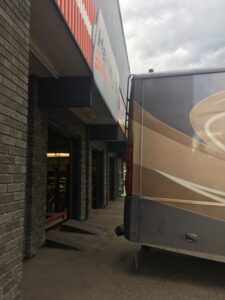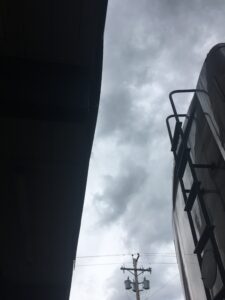 From my angle it looked even closer
Bailey is blocking part of the street, I hope this doesn't take too long.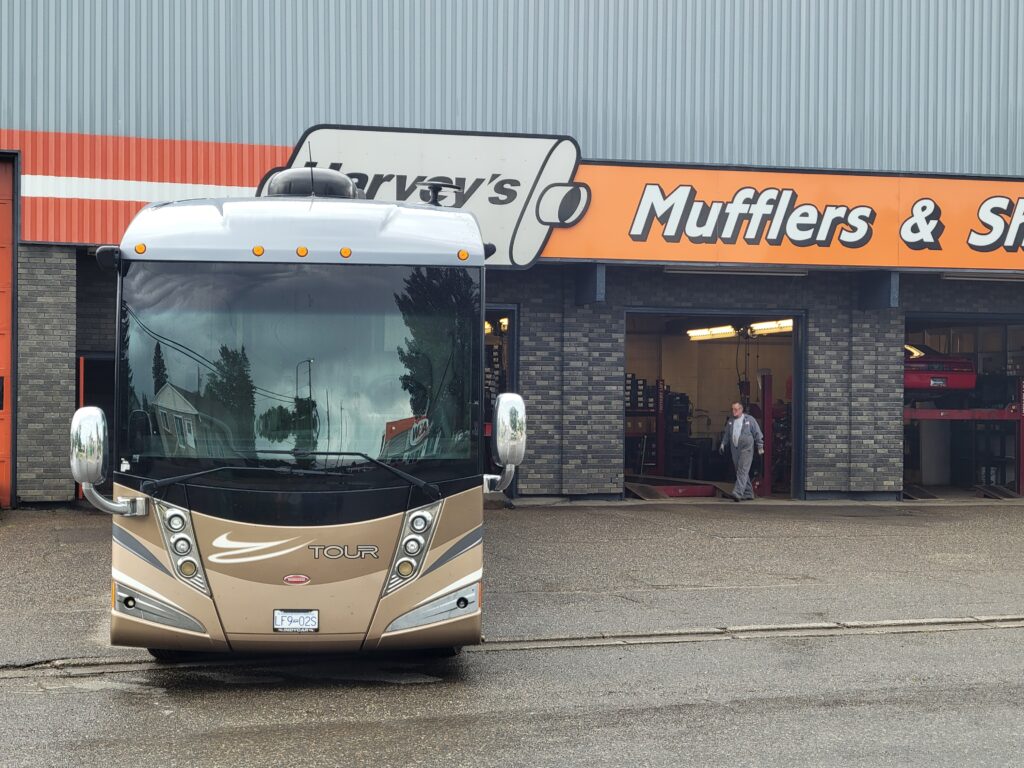 My heart is beginning to settle down.  Meet our tech!  The sky is getting darker and darker.  He says "You  may be here for awhile cause I'm going in if it starts raining."         Side note: Yes Bailey is filthy!   Cleaning is on the to do list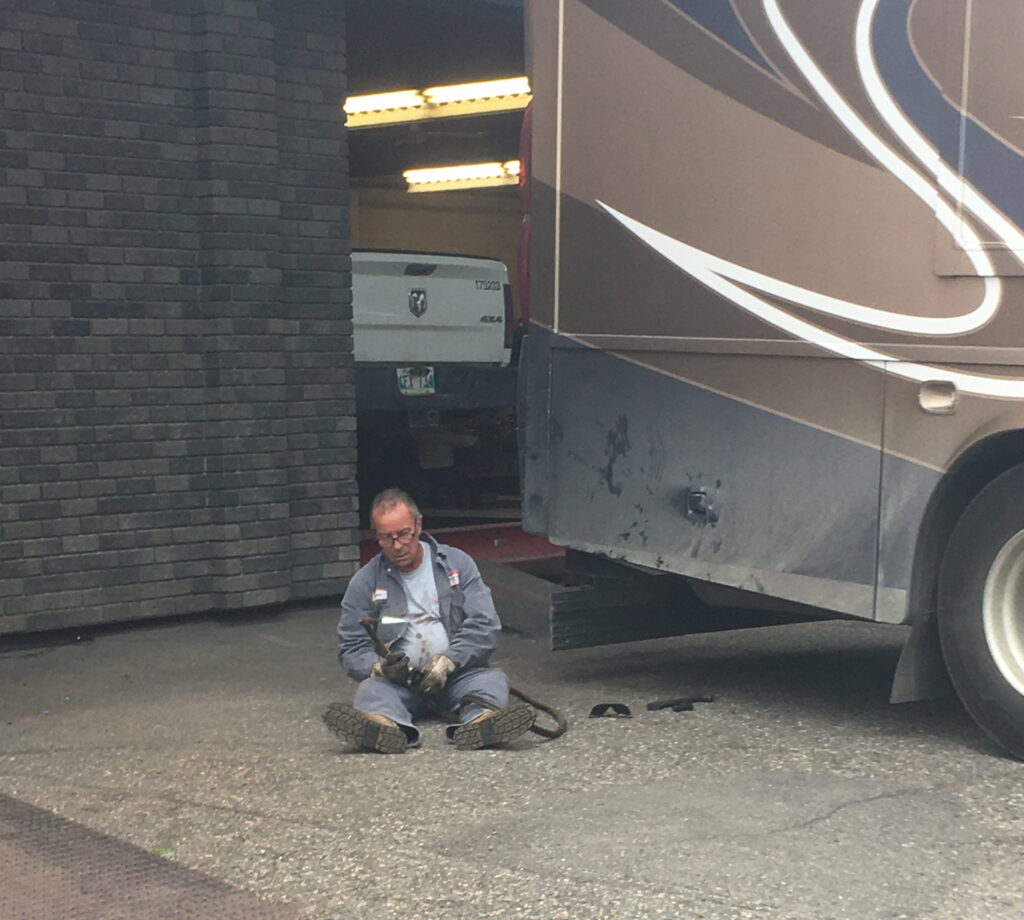 A&W Burger is directly across the street.  We sit in Bailey watching the parking lot action.   A sketchy looking guy comes meandering across the parking lot.  There is an illuminated ENTER sign, he walks up and starts banging his head against it several times.  My hearts starts racing again!  After about 5 bangs he continues to cross the street, towards us.  He walks passed us.  Stops about 20′ away, picks up a stones and throws it towards Bailey.  Allan jumps up to go out, I stop him – my thought is it would just escalate his behaviour.  He picks up a couple more stones.  Luckily, none come close.  He loses interest and continues meandering down the street.  Never on the sidewalk, he walks between the centre and side of the road.  Cars go around him.  I'm so relieved when he's out of sight.
Then it  starts pouring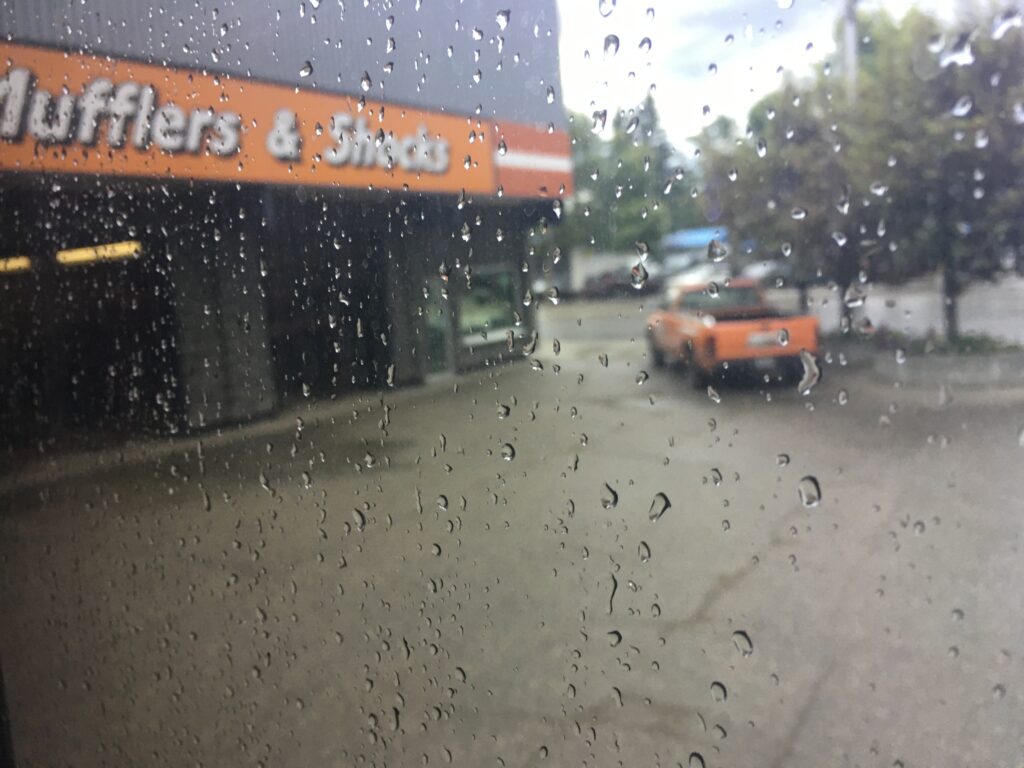 Hopefully he doesn't notice and continues the repair.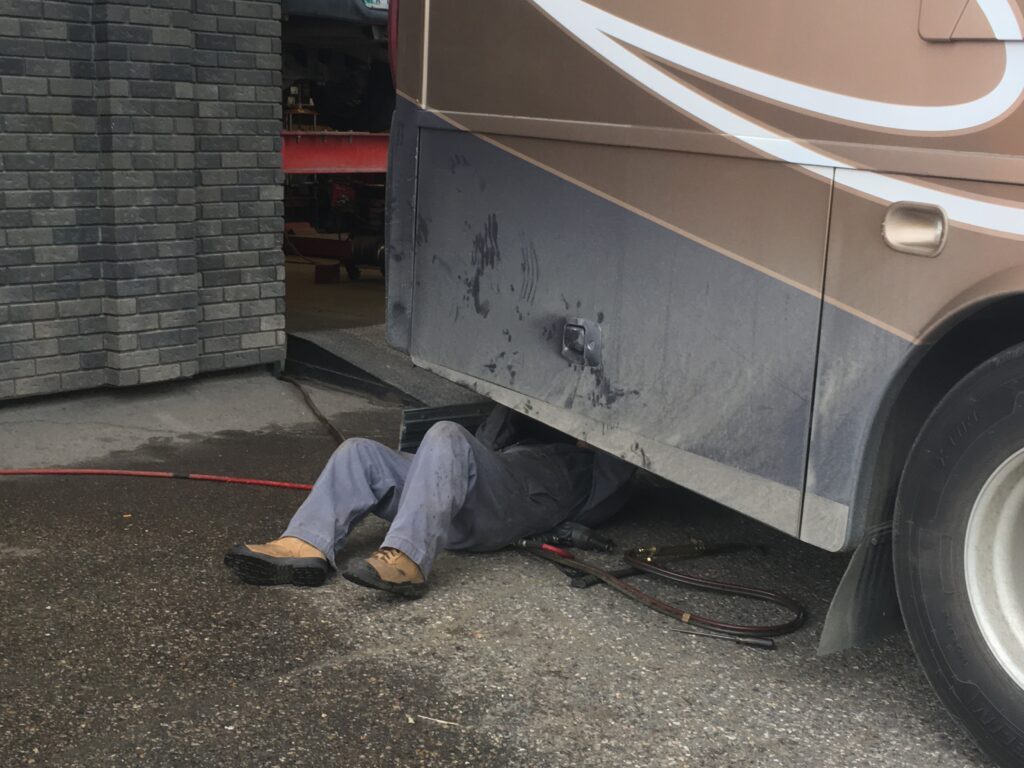 They had it done in a little less than an hour.  It felt much longer, this is not the best part of town.
Back to MamaYeh to set up.  This is one huge site!  Finally, a campground that knows what big rig friendly is.  The owner, Edward Yeh is the friendliest, most helpful host we have had and we've had many friendly hosts.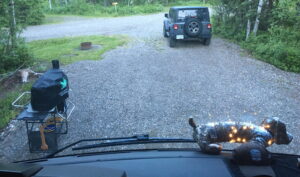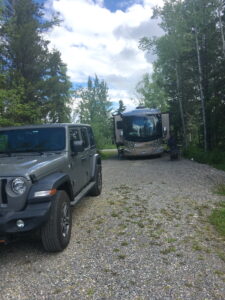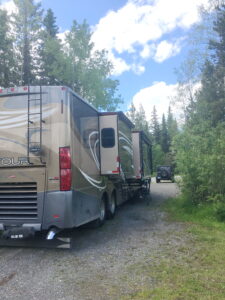 We certainly enjoyed our bevies at the fire.