Travel day to our next park San Diego RV Resort in La Mesa, California.  La Mesa is a suburb of San Diego.We selected this park because it is on the San Diego trolley line, we can hop on and go everywhere.
We leave at 9:25a, mileage 46,207k.  Still need groceries so off to Walmart arrived 11:55a, back on the road again at 1:30p.
All of Bailey's parts are working well.  Such a nice change, but not as exciting.  The drive was uneventfully picturesque.  We travelled through Ripley, Blythe, Brawley, Ocotillo, Imperial and several more towns.  Imperial and Ocotillo are wind turbine rich.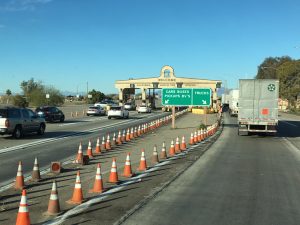 Arrive in La Mesa 3:40p.  Super tight corners and our first back in site. Allan handled it like the pro he is. Nice sunny day.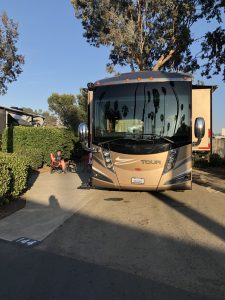 Overnight what do our ears hear but pitter patter, splish splash not …
Santa doesn't splish splash.
It's a torrential downpour!!