Today's highlight!  We move sites from A15 to A18.
A18 is a nicer site in that we look out at grass not the very close neighbour's stinky slinky.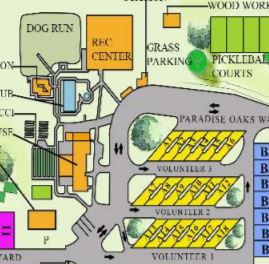 To make this minor, move over change, we still must put everything away, close the slides and retract the jacks.  We carry the Traeger, stand and chairs. We drive round the block and into our new spot.  Now have to unpack the dishes, open the slides, drop the jacks.  It took about 50 minutes.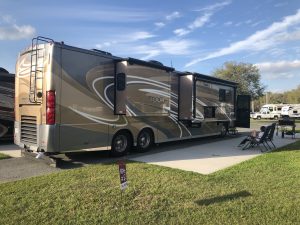 Allan is determined to see an alligator, so off on our daily walk to the pond's lookout.
Alligator fun facts that will amaze.  Allan has decided if he has to come back as an animal he'd choose an alligator.
Lesson of the day!  Our neighbours arrive with their "toad".  A vehicle that is "towed" behind an RV.  He detaches the toad and walks to the front of his RV not noticing the toad starts rolling back.  We weren't at our site so missed it but we're told it started off very slowly then gained momentum and crashed into a pick up parked across the street.  Issue?  When you tow the vehicle must be in neutral, he forgot to put it in park.  His wife was none to impressed as it is her vehicle and it's still new.