Allan calls our insurance who confirmed we are covered!  Best news 🙂  We are all relieved.
We are running out of supplies so we book a car rental for tomorrow.  We also hope to tour around, avoiding people.  Really want to go to St. Pete's to see what should have been.
Today's news:  "The White House on Monday issued new guidelines designed to slow the rapid spread of coronavirus, asking nearly every American to stay home from work or school for the next fifteen days. In almost every aspect of daily life, America is closed for business.
Wall Street took a beating on Monday, with the Dow Jones Industrial Average falling about 3,000 points — its largest one-day point loss in history.
In many major cities, bars and restaurants have been told to close or only offer take out and delivery services.
President Trump on Monday admitted that the country "may be" headed into recession as businesses are forced to lay off millions of workers. Mr. Trump said the outbreak could last into the summer, perhaps as long as August.
More than 4,500 people have tested positive for COVID-19 in the U.S. and at least 88 have died. Globally, the death toll was just over 7,100 on Monday, with the weekend seeing an alarming spike in fatalities in three European nations grappling with aggressive outbreaks. While more than 181,000 people have caught the virus around the world, almost half have already recovered, and the vast majority of cases remain mild."
New rule:  Don't go anywhere without hand sanitizer (we only have 2 of the little ones, and they aren't full) – hope to get some tomorrow and we now always wash our hands when we enter Bailey.
Trying to keep positive and keep laughing.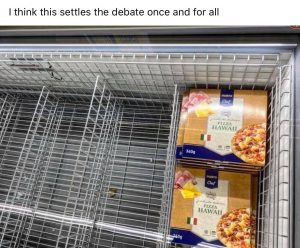 Hopefully we'll find more on the shelves tomorrow  Never did like pineapple on my pizza.