Many of you know we purchased a home.  It was the strangest deal, offer put in May 3rd, ended up closing June 1st.  Date was the seller's choice.  They also left the weirdest stuff, a heavy duty juicer, a Breville expresso maker, lots of art.
We searched several towns in Alberta & BC and finally settled on Lethbridge.  Lethbridge has our old town, Newmarket, type of feel when we first moved there in 2005.  Small town with everything you want, except for Ikea & an airport – Calgary for that.
TADA our sticks & bricks!!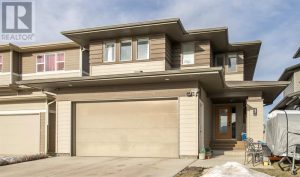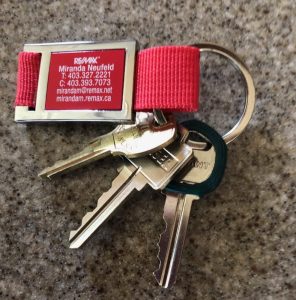 Our new home keys 🔑🔑🔑 😁
No furniture yet but enjoying our first drink in the house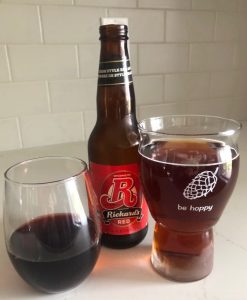 Many have asked if we are keeping Bailey.  A BIG yes!  We have not yet accomplished what we purchased Bailey to do: follow the IndyCar circuit.
We were in St. Petersburg, FL for the road course race, the roads were closed, the stands were brought in,  then on Friday the race was cancelled.  So disappointed but everyone was during Covid.
Bailey and travelling Canada & the US was not our plan but Covid helped to make that happen.  It's been an amazing time, we saw and did so much we otherwise would not have done. We made the decision to sell our final Ontario property and head to BC to be closer to Kyle & Megan.
Recap!  House sold; we are busy selling most everything when we get the call from Kyle that he's deployed to the Ukraine.  Change our plans again!  The rest is well documented in our Bailey blog.
All this to say, we always knew we would get another home, we just didn't know where.  We tried to be happy in BC but that province just wasn't for us.
Time to get the "sentimental" stuff we have stored on the island.
Friday, June 3rd, Allan along with his friend Wilf flew to Victoria to pick up the stuff we just couldn't part with. Here's Allan being picked up by Wilf.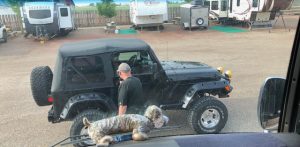 Speedy trip, fly out of Calgary Friday at 1130pm, hang out at Kyle & Megan's and catch the Saturday 10am ferry to Vancouver. This would not have been possible had K&M not taken Friday off to pick up the U-Haul and load it at the storage place.  Who has the best kids??
We do!!!!!!!!!!!!!!!!!!
Their handiwork!  Storage unit full                         empty
Loaded U-Haul in Victoria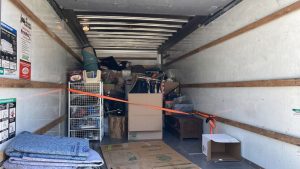 The ferry back, yes that's a whale 🐳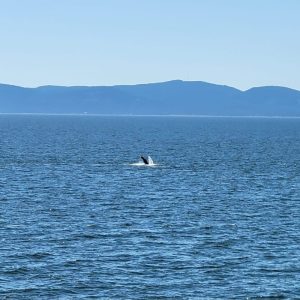 June 4th 1:23p – Allan & Wilf arrive in Lethbridge 😀 Fortunately they had an uneventful drive back.
Unloaded, thanks much for the help Wilf!! What do we find??  Again our amazing kids
Perfect gift!!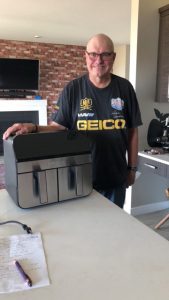 With everything going on who needs a safe?  We do!  Off to Costco …  Weighs 333 lbs, have lots of help loading.  Whatever are we doing to do to unload???
Back home, attempting the unload, my crocs just keep slipping, no traction to help push.  "Stop" I say, "let me get my runners".  Takes seconds and I come back to this!  How the heck did Allan get it on the ramp and down it??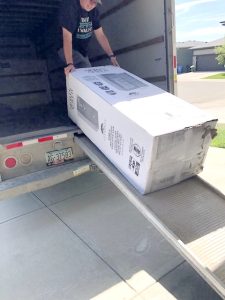 I help, just a bit, to get it here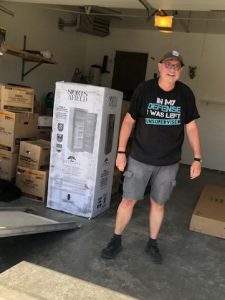 House comes with a mini library, not sure we are fans but it is a cool one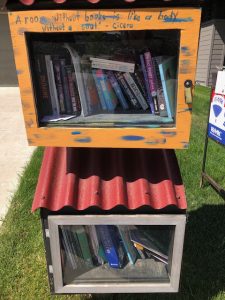 Taking a break to go for a walk, we spot this..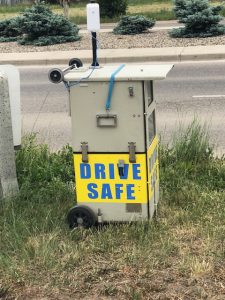 Yep a radar trap!  We got caught by this last year and paid a hefty fine.  Strange! The radio station announces where the radar is placed, we still got caught didn't know the rules or know the streets. when we were here last year.  Not that we try to speed, but this caught us off guard.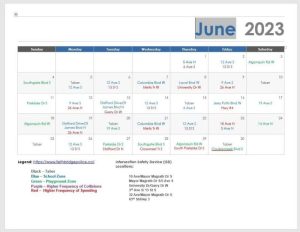 A much needed break  🙂
Trials and turbulations.  Telus Fiber, was supposed to be installed yesterday in 2.3/4h, they are back today.  2 dudes and 2 more hours later we finally, maybe have internet.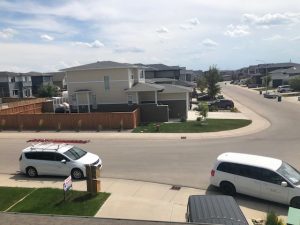 Our builder, stools!
Stay tuned for more exciting furniture, if we ever buy it, building….