We have a difficult time getting a mobile RV company to come to check on our on-going power issues. Seems this time of the year they prefer to skirt RVs.  Skirting an RV: putting material around the bottom of the rig to keep its nether regions protected from the cold.       
Example: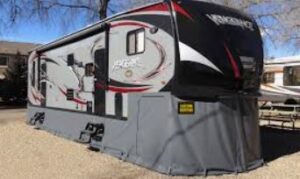 One of the companies Allan calls (who do not have any openings) suggests Mirel's On-Site RV Repairs.  Mirel agrees to come, arrives at the agreed time on November 16th.  We're so relieved to have found someone.  He checks the power at the post, puts his meter on Bailey, Allan comes inside to allow him to work.  Next thing we see he is loading up his truck.  Allan goes out, yes he's packing up as he doesn't feel comfortable troubleshooting the electric reel.  The guy that recommended him did say if he didn't know how to repair he would not.  We are happy he didn't persist and potentially mess up more but we still aren't fixed.
Next up, November 20 –Happy Camper RV Services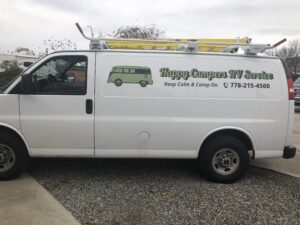 Vern set about determining the power issue and confirmed the issue is with the power reel.  Poor guy, working in such tight space.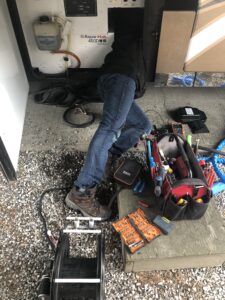 These parts are the culprits:
Even I can see how scorched these are.  Long story short, these are proprietary parts to the reel manufacturer in the States.  No distributors in Canada.  We have no choice but to order and wait for it's arrival.
Happy we dodged a fiery bullet!   This is the only smoke we want to see Never gets old!