The park has a RC car track, they meet at 9 Wednesdays – we are here to watch them race.  We are surprised at how many participants there are, these are just a few
Kissing to make up?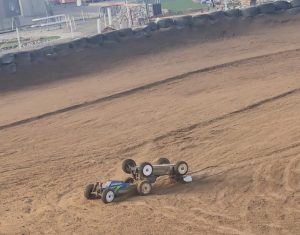 Onward to Winter Visitors Welcome Bash.  No idea what this is but we are game!
Turns out it's a lot of vendors giving away stuff.  Pretty busy, lots of people
Santa says to Allan "You are on one of two lists!"  Let's guess which one he's one!!!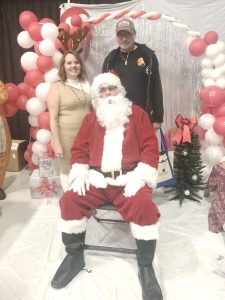 Our loot as laid out when we got home.  The best part, is the thermal bags.  The one we have from Newmarket Hydro has seen way better days!
*** Take note of the jello shots! ***
Next…  Neither of us have been to Chick-Fil-A (or In-N-Out Burger another on our hit list).  Today is the day for the Chick!
We both declare the burgers & whaffle fries delicious!
10 things to try to say without sounding sarcastic: 1. That's great 2. Good for you 3. Have fun 4. Fascinating 5. Thanks for that 6. Well done you 7. Good luck with that 8. Sounds thrilling 9. What a shame 10. Wow
Not sure I agree with these but perhaps I should stop the "good for you"
Howling at the Moon, December's full moon