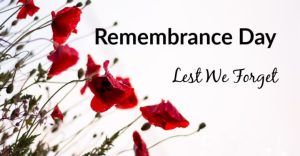 Today is our much anticipated return to Los Algodones.  We love border towns…
We have 4 objectives:  1) Hair cuts 2) Mani/Pedis  3) Check out dentists 4) Lunch
3 will be a daunting task as there are so many dentists.  This is the dental capital of the world with city has more than 400 dentists working in one square mile.  The procedure is they give you a "free" exam then give a quote for the service required.  I think it's best for people who require a crown/bridge, etc who do not have dental coverage at home. We are just looking for a cleaning so that is likely about $50US (our portion at home is a little less) I regress, lets start at #1.   We both got chopped.  I'm feeling a little bit slighted as I've been Allan's barber for the last 2ish years.
On to #2   When we first arrived this morning, the salon was not busy,  a mani/pedi was $15.  We wanted to have a margarita and cerveza while having it done as we did in Progresso, MX but liquor sales here do not begin until 11 so no booze for a while.
No problem let's check out the sites and stuff you don't need but will likely end up buying,  At 11 our time we try again, but no it's only 10 local time, we did not realize they are on PST not MST.
Let's go for the mani/pedi, the rate is now $15 for the pedi & $10 for a mani.  Gosh darn!  Allan does a search for another salon, finds one a 10m walk away.  Surely they will be cheaper.  Yes, I'm that cheap!   Where did the pavement go?   OK maybe not this cheap!  I would have turned back but Allan was on a mission!  Does this look like we'll find a nail salon?
Picture 4 above, is a victorious Allan shouting "I found it!"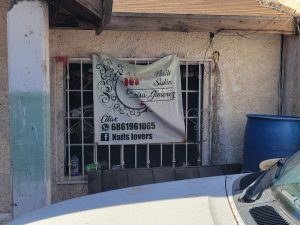 Back to town we go to pay the $25
3) dentists so, so many.  Think we will stick with the recommended Rubio
4) LUNCH Yahoo. So delicious!! Shrimp in garlic sauce for me, chicken fajitas for Allan
Not sure what this guy is selling but he's doing it with a motorized bike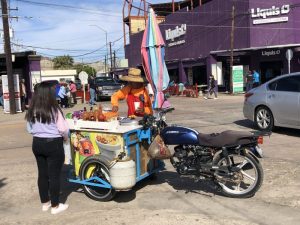 Now for the useless stuff we didn't need but bought anyways.  The Coffee Tequila may have been necessary!  Bracelet started at $20, paid $5; not bad for gold 🙂  Cactus $45 paid $15.  Tequila 8.99, chips 1.89 no haggling for these.
  Cheers!   Yummy!!
Meet "Dannie" our dancing cactus!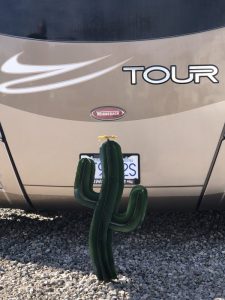 Back for a hot tub, what will tomorrow bring?