Happy Anniversary to us!  We got married in Las Vegas 24 years ago, lots of reminiscing going on 😊 So  many wonderful (some not so), but way more wonderful have happened in this thing we call life.
One of life's mysteries.  How to you pronounce Zzyzx?
Closer we get the more traffic there is, don't slow us down we want to get there!
Staying at Circus Circus RV Park. Not to let anyone down, YES, we make the wrong turn.  Where the heck is the RV section?  We get turned around and voila!!   We are here!
Arrived noonish, got set up and heading out to walk the strip.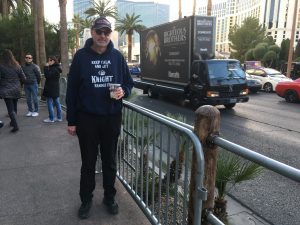 Silly us, we thought we would be wearing summer clothes.
We walked to the Luxor Hotel which is where we stayed on our honeymoon.
Us then and now…