This should have been added last month but here goes:
Allan trades police badges so on Friday, January 17th we walked to the Pharr Police Station  After a rocky start trying to tell the receptionist what we were there to "trade badges" not "train badges" we leave in defeat.  We make it a few steps out the door when she comes dashing out.  "Wait! Trade badges, come back and I'll get you an officer that does trades."  Yes, it's a real thing!
We wait for a bit and through the door comes the Assistant Chief of Police with 2 badges and a challenge coin  Allan made out very well!  The New Orleans badge we broke down and bought, at the police station there because the trading officers were in another division and we didn't want to walk there. 
As happy as Allan is when getting new badges to me it means I get to sew them on Allan's cub blanket.
But wait!  Our neighbour, Jo, is an avid sewer and is happy to sew the new badges on.  YAHOO Jo!!! Thank you!!!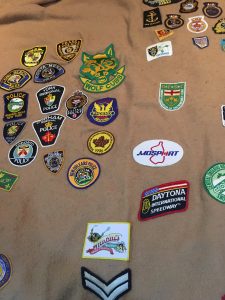 I figured out the tree next to us that doesn't look too healthy is a grapefruit tree.  I cut one up that was on the ground and it is so juicy and tastes delicious.
The fruits are mainly out of my reach so I enlist Allan's help
Grapefruit for breakfast!
Today's Allan project.  Swap out the outdoor entertainment radio.  The current one doesn't turn off.  Allan did the research and determined the $19.67 Walmart radio complete with blue tooth capabilities will work size wise.  OK here goes!  The much researched, totally organized, tool box springs into action!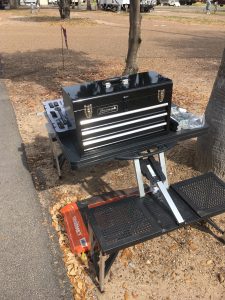 Allan's at it!  Removing the kaput radio.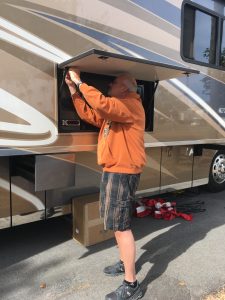 A little bit of panic sets in for me, way too many wires!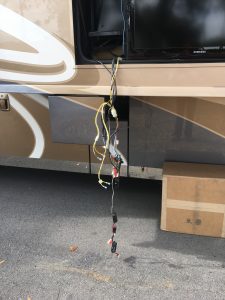 Me of little faith, Allan reconnects the new radio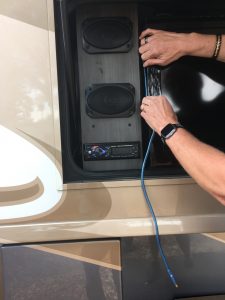 Installed and we are listening to Sirius.