We are leaving Pharr today and heading to South Padre Island for seven days. First pick some grapefruits.  The humongous, deformed one will likely not be good but don't have the heart to leave it behind.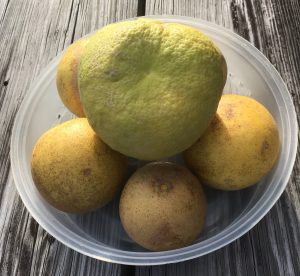 The day starts off with lots of clear skies and sunshine.
We pack up, say our goodbyes to the wonderful folks we met. Circle check done close the door AND the stairs do not retract.  Allan does the fuse check, all good.  A google search advises checking the sensor – Allan does, stairs now retract.  Off we go at noon, 61,169 k
Not long into our drive we are held up by road construction.
On our way again, we are taking the scenic route which is well, scenic.  To add to the excitement, we take a wrong turn but quickly u-turn and are back on track.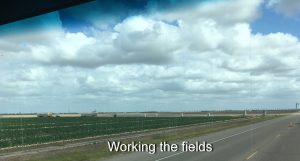 We spot portions of the wall that separates USA from Mexico. 
More wind turbines.  Doesn't Allan look like he's fully concentrating?
In the distance, South Padre Island.

We were told about the "Queen Isabella Causeway" to the island; it is more spectacular and much longer at 2-1/2 miles, than we thought.
This is what the Stop when Flashing sign means. Only a few more minutes till we are at Isla Blanca RV Park, our first State Park.
                        We hear the dreaded GPS announcing
No we didn't!
We see an entrance gate with RVs on the other side.  That must be it!  It is BUT first you must check in at the white building 3 crosswalks back.  "Can we park on the side and walk back?"  "No, make a U-turn". U-turn made, drive back and enter the building to register.  We say we drove by the first time and had to circle back.  Their response "Lots of people miss it".  You'd think they'd put up better signage then!
First site they gave us was so narrow we couldn't open our large slide.  We tried, Allan giggled and wiggled Bailey to make it work but just couldn't. We walk back to the office to see about getting a different site, but they are so booked we doubted we could.
They find us one option!  Lucky us, it was right by the washrooms we don't use.  Get set up, plug into power, no power!  Allan calls the repair dude who arrived quickly and had us working.  Tomorrow will be more fun!