Love that the days are getting longer   
Today's outing, Knox Mountain where we will hike on Paul's Tomb.
The views are spectacular
We didn't take into consideration how icy it will be after yesterday's snow.  We slip and slide uphill and make it to the beginning of the trail.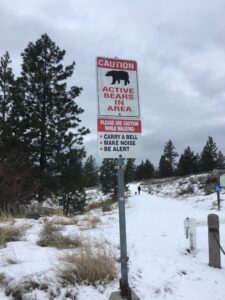 We do not have a bell, snow cleats would be helpful.  What the heck, we forge on relying on boots, knowing how to make lots of noise and will be alert.
This trail is signed better than others we've been on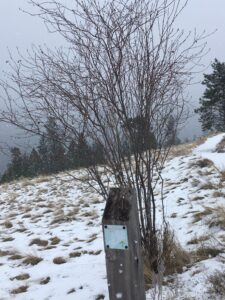 The clouds kissing the mountains are nice but I'd rather sunshine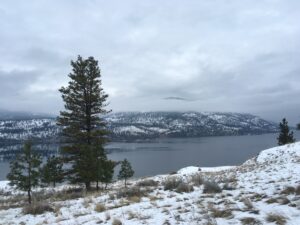 Someone built an inukshuk 🙂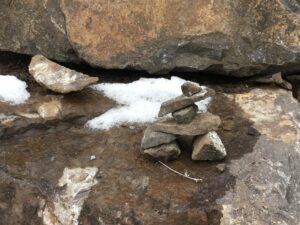 Look what being "alert" gets you!  A deer sighting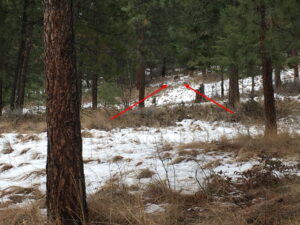 We made it!

This is the tomb, it's history is interesting.  
We are strongly influenced by rewards.  Reward for making it here..
| | |
| --- | --- |
| Smooth delicious spiced apple, a first for us not the last | |
The view   
Houses, expensive ones, on top of the mountain
Allan above the beach
Walking back, not a fan of the big drop offs
It is more steep than I captured but wasn't getting any closer to the edge.  Allan was much too close to the edge for my liking.
Love the stick man, would hate falling rocks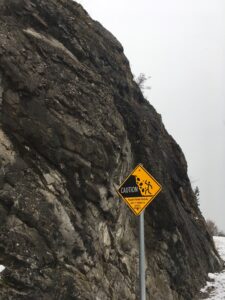 It's starting to snow, this was not forecasted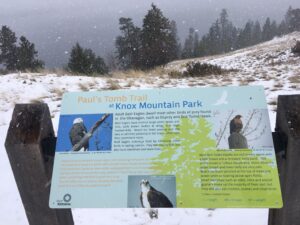 With the snow came clouds.  Photo on the left taken at 12.26 on our way up.  Right at 1.37 heading down.  Bye bye mountains.
Next hike, this trail will be a bit more challenging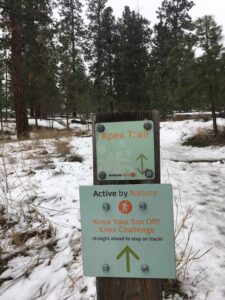 Nissa recommended "Rustic Reel" it's only a 2m drive.  We arrive, start walking to the door when we see something I hope to never see again.  An older gent was exiting the driver's door, first out his white cane.  I wished I had the balls to take a photo.  Did get this cutie 🙂
Who walks in behind us?  The dude, his white cane, dark glasses and a seeing eye dog.  How can he still hold a licence?