Today's adventure has us taking a Lyft to Ybor City, (pronounced EE-bore) aka Cuba Town, known for it's Cuban cigar making and restaurants.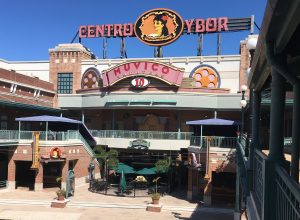 What we didn't expect is roosters & chickens run free.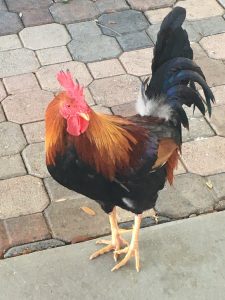 What's with that? 
Oh those stairs!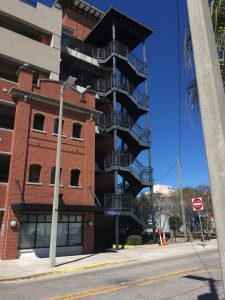 I take some interesting photos, don't you think?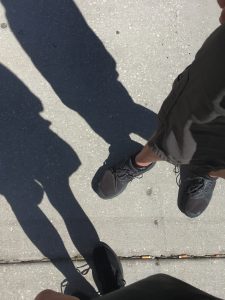 We encounter smoke, from where? This cigar, smoke billows from the bottom.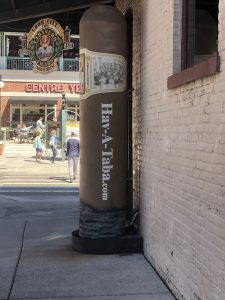 Although the sun is shining it is a bit nippy; we want to warm up so pop into The Big Easy.
Roosters here too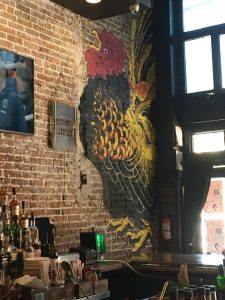 You encounter some strange restrooms.  This, not so clean, bathtub is the sink.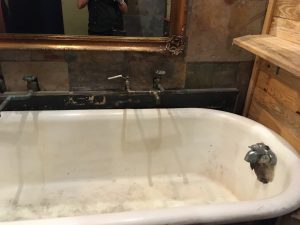 Ybor's main street 
Wall art!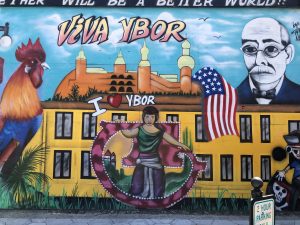 Last camp we learned about alligators.  This one chickens/roosters; didn't know they could climb trees.
Apparently  it isn't a fun fact!
My favourite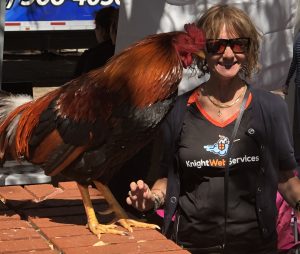 So many choices for dinner.  We decide upon the town's oldest restaurant built on an entire block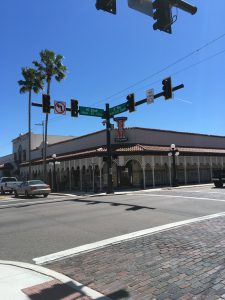 Columbia Restaurant
Allan ordered their signature 1905 Salad (The Columbia's legendary
salad tossed tableside. Crisp iceberg lettuce* with julienne of baked ham, natural Swiss cheese, tomato, olives, grated Romano cheese, Lea &
Perrins® Worchester sauce and our famous garlic dressing)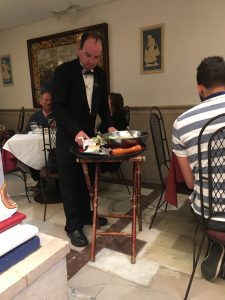 and Cuban Sandwich (The "Mixto," as it was known in the beginning, was created in the 1890s for the cigar workers as they walked to and from work. The sandwiches underwent changes as immigrants from different countries
came to Ybor City. The Spanish brought the fine ham, the Sicilians the Genoa salami, the Cubans the mojo-marinated roast pork, the Germans
and Jews the Swiss cheese, pickle and mustard. Put it all together between sliced, freshly baked  Cuban bread). 
I was going to have that too but then the shrimp called me. Shrimp Supreme (large shrimp is wrapped in wafer thin bacon, marinated and fried with yellow rice.)
We walk around a bit more, before heading back stop off at TBBC for a flight.
Waiting for our Lyft, we see Tampa's skyline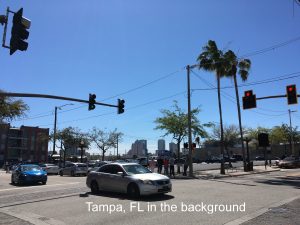 Back at the resort we enjoy some live entertainment.  The bass player was entertaining, he twirled the bass-never saw that before.