We awake thinking it's 8 but it's really 6. Let's drink coffee and play with our devices for a bit. We do, then have a delicious breakfast, shower, and pack up.
In the "it's a small world" the RV next to us is also from Sicard's. Snowbirds, they have been in the Southern States for 6 month and are now heading back.
Today's destination is Big Springs, TX, drive time 6-1/2h and we lose an hour entering into Central time. We are boondocking at Walmart RV Resort.
Allan is fed up with AT&T and on his 'to do' list for today is head to T-Mobile.
We leave at 935a; km 48,730.
Unlike yesterday, today is not sunny which on a travel day isn't bad. It's still as windy, scenery same as yesterday.
Speed limit on many highways in Texas is 80 miles an hour.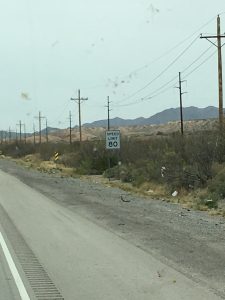 Our best speed for fuel economy is 65; the norm is to have tractor/trailers whip by us.
Those are Teslas hurrying to be with their new owners.
Allan would love to be here in a Vette.
Their warning…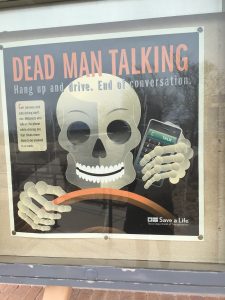 Imagine! Being sound asleep in the passenger's seat and be awoken by the driver's scream and seeing this… 
We make it to Big Springs at 530. Google says there is a T-Mobile in the Walmart so off we trot. Google lies! No T-Mobile in Walmart but the store is a 15 minute walk. So very windy and none too warm. True to our experience they tell us it was 90 deg yesterday. We make it  there and Allan signs up. Next door is a grocery store, H.E.B. we buy some meat, next stop liquor store where Allan finds some Alaskan Amber  he first tried and liked in San Diego.
Feeling guilty that all our food purchases are not from our host, Walmart we head there to purchase the balance of our requirements. Dinner is left over chicken and coleslaw.
It's a boondocking night.
Tomorrow is another bigger driving day so to bed we go.