Today's destination Fancy Gap, VA.  It is a short, easy drive so decide to leave about 11, km 64,565.  Bye bye, Fort Mills.  The day started off sunny and warm, by the time we pull out it is starting to sprinkle.
Only a few miles to North Carolina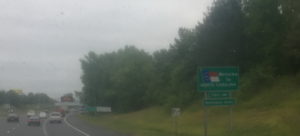 There are more cars on the road then we expected

Rain continues.  Good thing Allan applied the Rain.X, it makes the rain just rolls off the windshield.
It only gets better, NOT…   Fog is rolling in.
Almost miss the exit
The road into Fancy Gap KOA
Made it!
Our spot is a little uneven, a few attempts at leveling does it.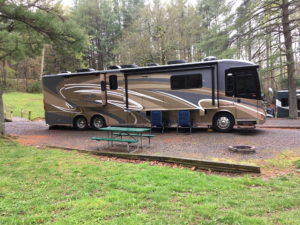 So far, we're liking it here.  Not many others here and Allan has a fire pit, unlike the last place – just make your fire anywhere.

IndyCar iRacing and snack time,any guesses what's on top of the popcorn?
Hum, forecast not that favourable but we'll have fun