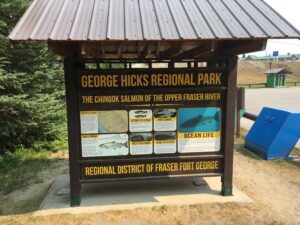 Today is George Hicks Park day
We walked from our park so our step goal wasn't an issue.
View from lookout #1 
Lookout #2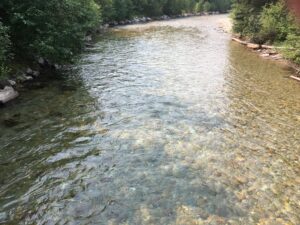 Clear water, no salmon, yet.  We'll have to research when spawning season begins.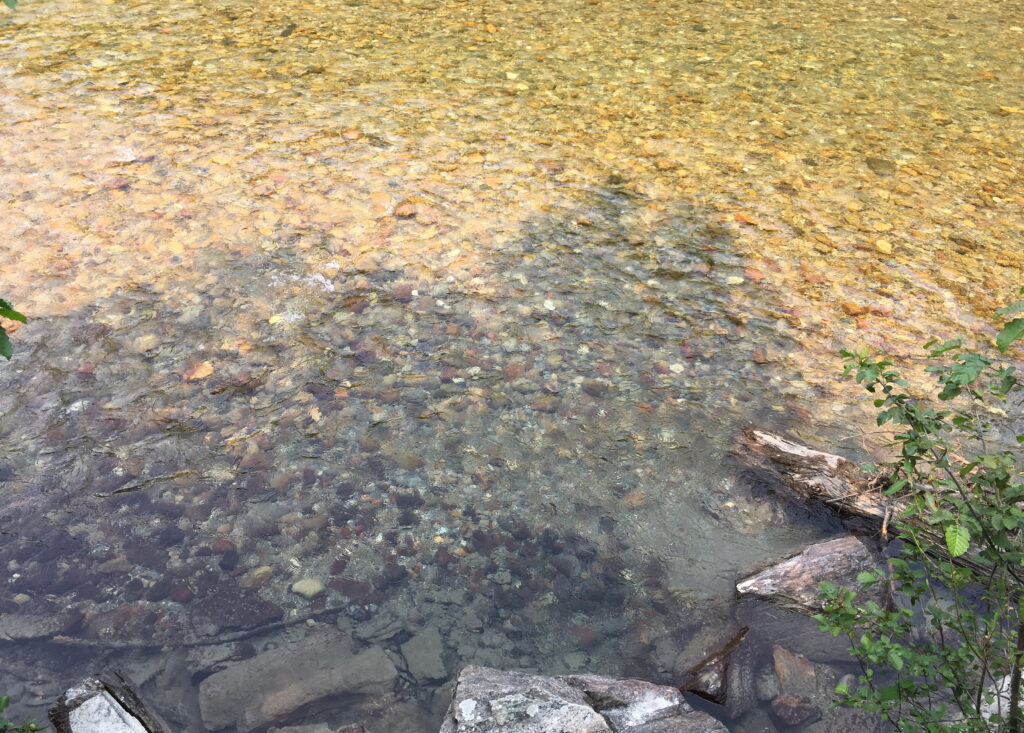 The park/trail was much shorter than expected.  The trail loops and we are back where we began about 15m later.
Back at Bailey the smoke from the wild firest is getting worse.  We are surrounded by mountains which are barely visible.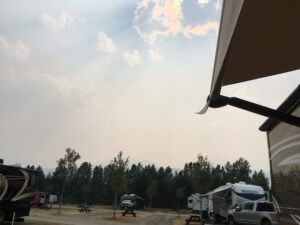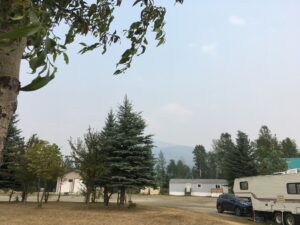 This is how dry the ground is.  One spark and …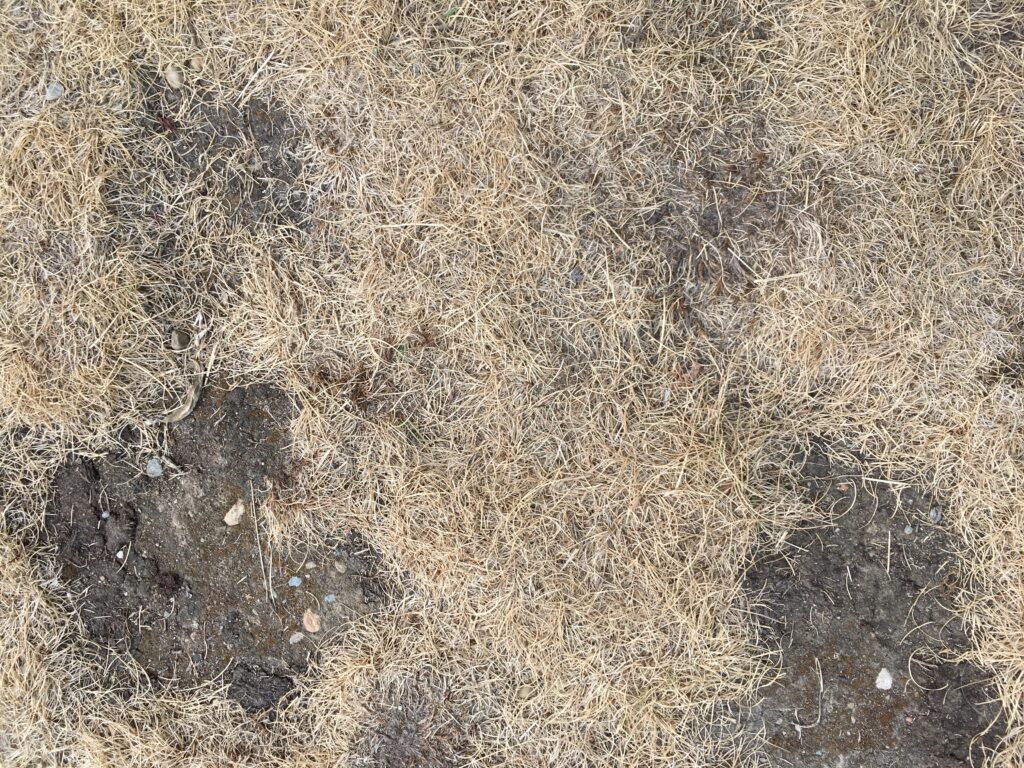 Evening sky, there is a mountain there.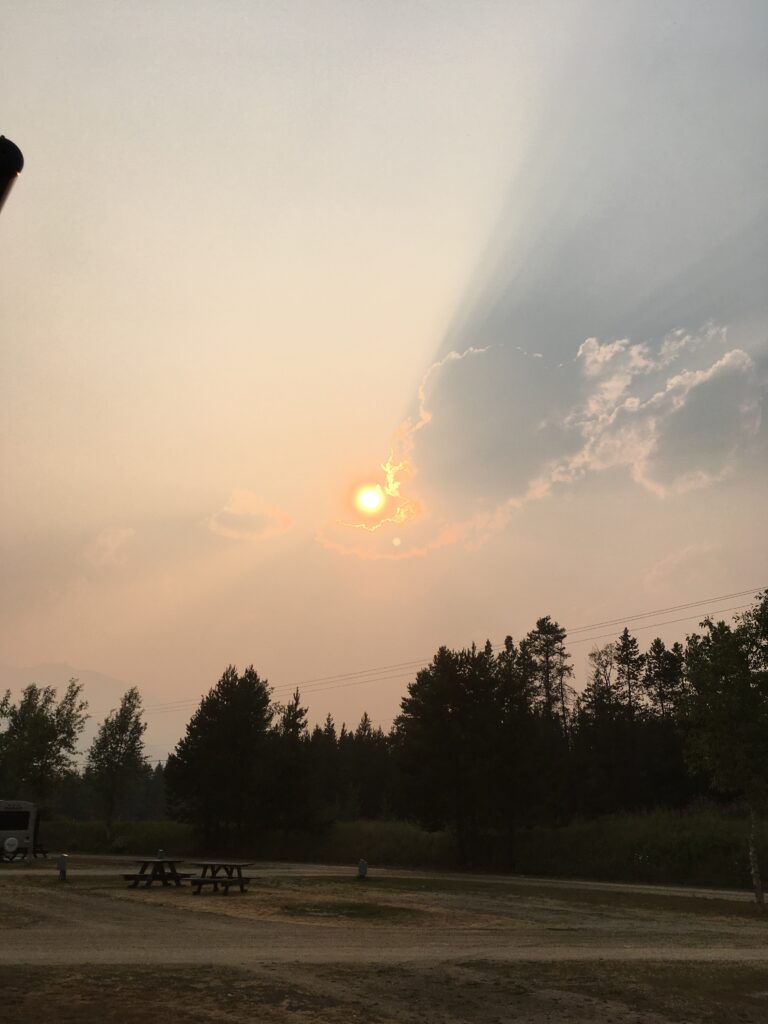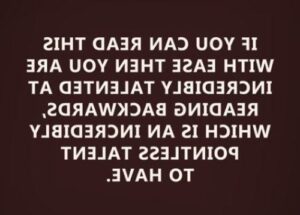 July 29th 
The days have been rather dreary because of wild fire smoke.  The photos on the left were yesterday, right today.  We can see the mountains!!

There is a famers market in town today, hours 4p – 7p.  Weird hours, nothing in this town opens early.  I'm hoping for tomatoes, corn & garlic scapes. We'll walk to town, go to the market, then have dinner at the The Loose Moose that opens at 430p (even on the weekend).  We selected this restaurant because it has Rickards Red on tap.  Allan hasn't had that since Kelowna!  And Chicken Parm.
Can't remember if I spoke about trains here.  There are trains, super long trains, feels like they run 22/7, and blow their whistles (long, long, short, long).  We have the misfortune of hearing 2 separate crossings.  
We have been lucky on our walks to not encounter a train.  But not today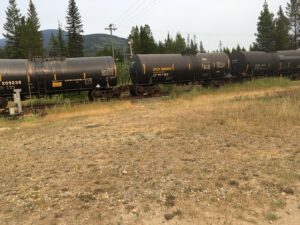 The conductor waves 🙂 5m later we cross, yes, I timed it. 
We walk past the Valemount Fire Department.  They have an engine for sale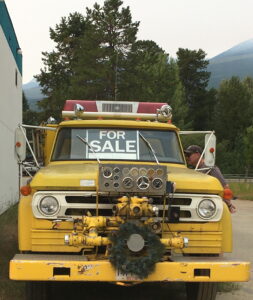 This mural is on the side of the building. Who thought a mural of a fireman watching a fire burn was a good idea???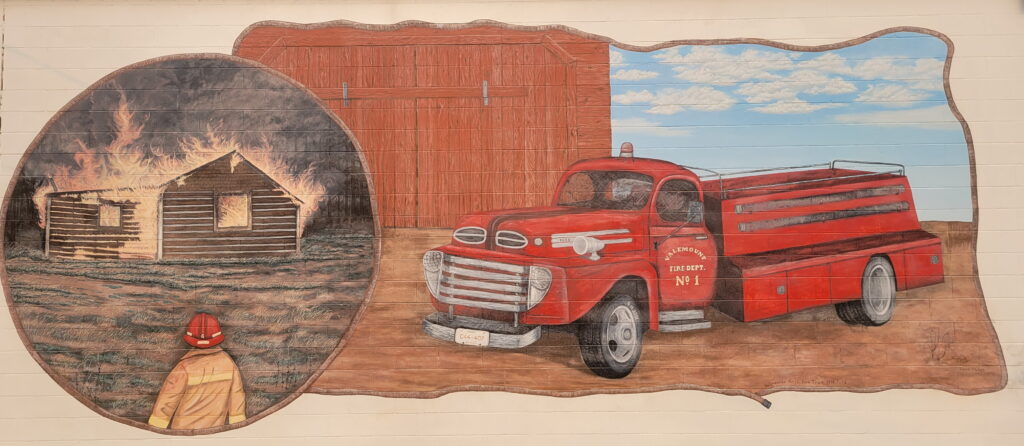 The market was larger than we expected

No tomatoes or corn, we did score garlic scapes. Yum
The Loose Moose has no Rickards on tap, in fact no beer on tap.  Then why not update your online menu?  They have all the listed bottle beers, Allan selects a bottle of Kokanee.    Sorry, we don't have that one either.  Allan settles for a bottle of Rickards.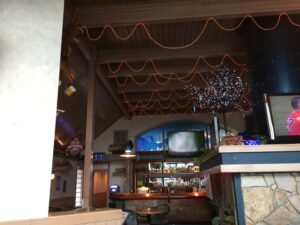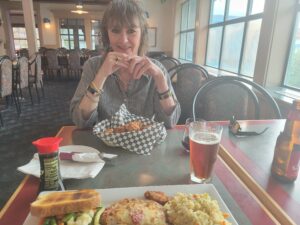 My wings were good.                       Allan's Chicken Parm, bottom of photo was the weidest Chicken Parm. 
Featured in the men's room of this classy restaurant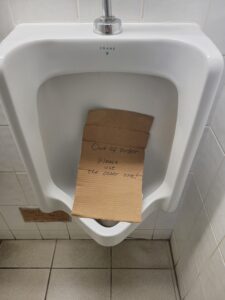 They can't all be gems!!