Race Day!!
And if that isn't good enough it is also National BEER Day!!
Woke up to overcast skies. Fingers crossed the sun finds its way to the track.
One of the neighbours was so "rain shy" he decided to leave prior to the Indy starting.  These are his "trying to get out" tire marks. He needed a tow.
We secure our seats using our lawn chairs (kind of like leaving your towel on a poolside chair in the DR) then waste some time at "Wine Down at Indy".
About 130p we head back to Bailey to pick up our race scanners that enable us to listen to the drivers chatting with theirs teams. Gets pretty colourful at times. Also get our cooler filled with must have bevies and snacks.
Look what pops out to enjoy the race
Back to our seats in plenty of time for the 3p start. It is always fun being at the races, but this wasn't the most exciting. One caution, 90 laps.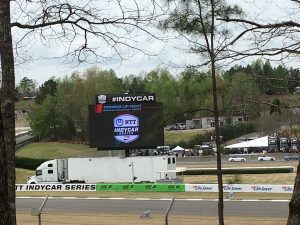 Alex finishes ahead of Felix. Needless to say, Allan was having more fun than me. Bonus, the rain held off.
Just like that, the race is over.  Allan gets to be ahead. Can't wait for the next one so I will again rule!!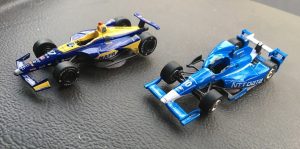 Back to Bailey after the race for dinner, Traegar steaks and salad. And watch as some clear out.
Forecast was for another storm Sunday night. We are too stupid to be concerned so just carry on enjoying our last night.