Our day starts off with a rainbow, must be a good sign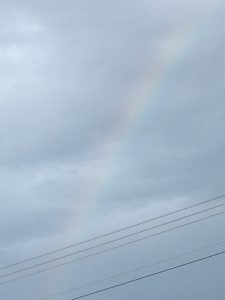 We leave the track at 840a, km 55,678.
Destination is Camp Turkeyville in Marsall, MI. Google maps shows it as a 6-1/2h drive. It always takes longer, we'll see our end time.
We stop at a rest stop to, you know, rest.  Leave it to us to pick one that requires winding roads to get to.  We thought it was right next to the highway as most are.
The art that greets at the rest area.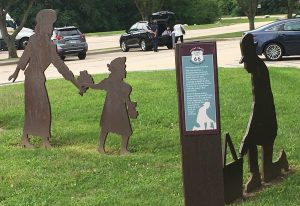 What's going on??  We don't know either but lots of flashing lights nearly make us miss going through the express lane.
Great a Sunday afternoon traffic jam in Lansing IL 🙁  Hit it jam at 125p finally clearer sailing at 150p
One more rest stop.  Really is a long load.
Happy people live here?

Arrive in Turkeyville, MI at 431p. Imagine turkeys in Turkeyville!
Set up complete, firewood purchased.
Dinner will be at Cornwell's "Home of the Best Turkey Sandwich"  Is it a little disturbing there are live turkeys and the best sandwich?
Enjoying our dinners.
Allan starts the fire earlier as rain is coming.
Rest day tomorrow, hope it doesn't rain.