Are we in St. Pete's, FL?
Sadly, no but it is RACE DAY.  The IndyCar new season begins.
As per our long standing rules, we have until the beginning of the third race to select our favourite driver for this season. The win$?$?  A victory dinner at the restaurant of your choice.
Allan is sticking with his last year's driver, Alex Rossi of Andretti Autosport.  Alex did win for Allan in 2018.  Allan's first Indy win in years.
Following Allan photo just one of his own victories 🙂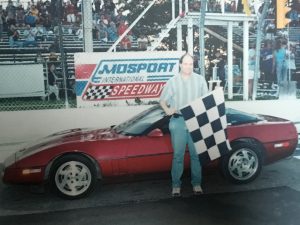 My last year's driver was Josef Newgarden  Josef did some amazing racing but he let me down with his attitude last year.
I haven't decided for sure yet but think I may switch to a rookie driver, Felix  Rosenqvist of Chip Ganassi Racing.
This race was exciting, especially being the first line.  Click here for highlights, brought to you by Motorsport Week.
Top 5 finishers…
Josef Newgarden
Scott Dixon
Will Power
Felix Rosenqvist
Alex Rossi
Next race, March 24 – Circuit Of The Americas – Austin, TX
Tune in!!!