I thought today was April 1st and Allan was a prankster because my cell is gone, I search ever where to no avail so wake Allan up in a panic. We search and then remember the Find My Friends feature – it shows the cell is at Walmart, off Allan goes. It takes awhile for him to return and my heart continues to race. Allan is back – NO they don't have it. Now Allan remember he can text me. RELIEF, it's in Bailey. Finally found! Hiding in the most obvious spot, the couch crevice.
Today's destination – Diamond Jack's Casino, Bossier City, LA.
Leave time 748a, 49,444km
We're excited thinking the Casino will be heaps of fun, hopefully with nightly entertainment. We arrive and set up. The park is much nicer than the Circus Circus RV Park. This one has grass and trees.
We head over to the casino and walk in the door. WOW what a smell, it turns out smoking is still permitted EVERYWHERE! We had considered eating in the casino but no way was that going to happen now. The casino is on 3 floors, we wander the floors, chose our slot machine and quickly lose our $20.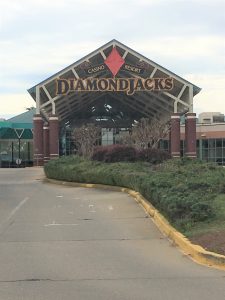 Back to Bailey we go.