Off to the races!!! It's raining but not even that deters us.
Day's plans – get Bailey wash at the Blue Beacon – hope it stops raining before Bailey's bath.
Pouring rain seems to be the trend for us. Good thing, it rained so hard it removed the bugs from the front of Bailey and the windshield. No Blue Beacon for us today.  Still raining
We arrive @BarberMotorPark  at 255p.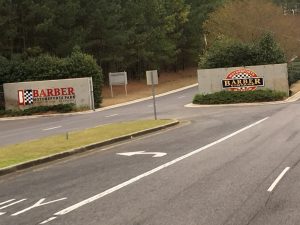 Info says gates open at 3p; we drive right in. There are cars on the track, several RVs set up already. We didn't have to worry about arriving too early.
We follow the signs to Hilltop Parking.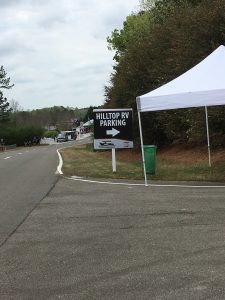 A few flowers on the way.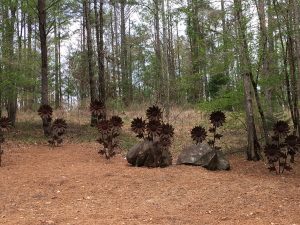 We set up, quicker than normal cause we are boondocking the 4 days we are here. We must be careful with water lasting and the amount of power we use.
We walk around to familiarize ourselves with the track, life doesn't get much better.  🙂
Pouring rain again, wakes me up about 3a. All these spots are on grass, no pads, all the rain is making it mushy.