Travel day to World Wide Technology Raceway at Gateway starting km 55,398 finally leave at 1040a..
Side note this is the first Mother/Daughter travel team we've seen.  Wish I would have thought to take a photo with them in it…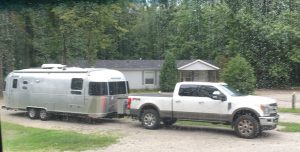 This is the worst sound when you want to leave.  Why?  Jacks are not coming up. Jacks Down.. No! Allan activates the relevel and the lower and we're good.
Off we go…
Would you like to call this home?
Definitely on the right road as it's this narrow Narrow Enough
This trip produces two things/elements.. super narrow roads and RAIN!!Traveling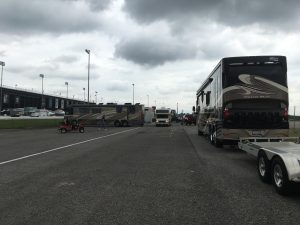 Despite the ridiculous directions we make it, after having to U-turn, such an easy task in Bailey!!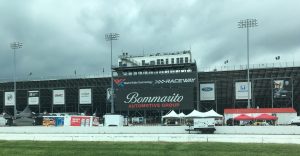 From this to this…
Beer fridge stocking time.  Shots fired!!  Allan rushes into the line of fire..
The spots are all 50' long by 15' wide. We plan to leave as much space as possible in front of Bailey and use it for the Traeger, eating table and chairs. Nope that will not work because the front is water/mud covered. We can't use the side either as Bailey is 13' when the slides are out. We hope it will dry up as now the sun is kind of up.  
We head out on a fact-finding mission to determine where the tunnel to the pits is and find our seats. Today is vendor set up day; we hope to find some discarded boxes to lay above the water/mud broth.
We find the tunnel; it is not people friendly as there is no sidewalk; hopefully there is a people tunnel. We climb up to our seats. Allan selected well; we can see the entire track. We are smiling now.
We had back and do come across an unpacking vendor who is happy to give us boxes. Heading back it begins to pour and pour.
Weather man Allan, checks the app and reports it will only rain for a few minutes then clear up. He begins and the rain pours even more. Such downpour.   I believe Allan Tragers,  bestest, moistest, meats as he has the most experience cooking in the rain on this trip.
Remember our first race in Bailey?  Birmingham, where we meet Cathy, Bob and puppy Cooper??  They are at this race as well.  Cooper has had his eye surgery and all is good.
Remember Larry & Sue we meet last week in Pocono – they are a few spots over from us here 🙂
Rain tomorrow?