Action packed day!  Start with a 630a Wellness Check. It's a blood test where they check for a multiple of issues.  We don't, at least I don't know of such a test at home.  Blood given, if there is an immediate issue they will call today or tomorrow, if not pick up results in 5 days. 
Next, morning stretch exercises.
Next, back to Bailey, complete work, shower to get ready for the day.  We have a potluck at 5p on the next street, Banana St. We are on Cherry St but are assured Cherry Pickers are welcome.
Next, realize we are almost out of small bottled water. Allan, always thinking says HEB delivers lets order for delivery all the stuff that is heavy to carry ie small water cases, big waters, beer and wine. This is our first online shopping order, place it for delivery tomorrow morning. 
Next, Dollar Tree, where everything is still $1 for a tray to take Allan's famous wings to the potluck.
Next, walk to HEB to pick up the wings and get our 10k minimum daily steps. 
Next, back home hang out here and attempt to catch up on this blog!
AND decide we will go to the St. Pete's race.  Allan finds us a resort (with a hot tub), books it and orders, what we hope are great tickets to the race.
Next, 4p Allan preps and Traegers the wings.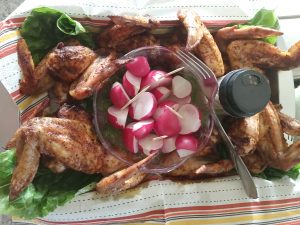 Next, we arrive at the host home at 505, everyone is there.  33 people arrived before us for a 5p event!  Drop your food on the table and set up your chairs.  It was fun, good food, met new people.  Shortest event ever, 630p we were back in Bailey and we were one of the last to leave. 
Next, Card Bingo, first time for us.  Nope, didn't win.
Next, HOT TUB!!
Next, watch Chicago PD.
We'll sleep well!