Wake up very excited!  On our way to pick up Bailey for the race weekend at 10:30a.  Get to the campground, load up and off we go to Clarington at 11:28. 52,861km.
Drive to Canadian Tire Motorsport Park takes about 2 hours with only 1 "oh shit" wrong turn moment. 
We thought the gate at Peace Bridge was narrow, nope!  We now know what is narrow, the entrance to this park.  Fortunately, Allan was super cool we get through relatively easily.  
Allan knows the track very well having driven here in years gone by so we drive directly to corner 3 our spot 3O06, turn 3, 6th spot.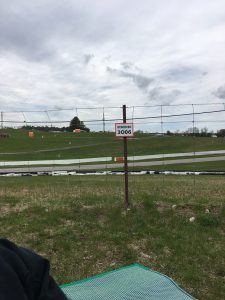 Allan is happy installing his GenTuri! I don't get it, but he loves it. He also uses the jack stands for the first time.
There is some track activity and we are pleased with our view. It's not too busy yet giving us an opportunity to scope out the place.
What's that across the track? A shopping cart mounted to the roof of a car?
We wander over and yes that is exactly what we're seeing. 
This is Bailey as seen from across the track.
Allan is in heaven!  This just never gets old!!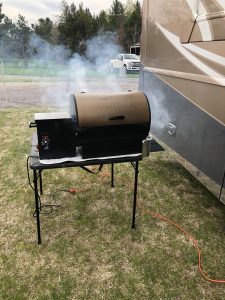 We end the night visiting our neighbours fire.