Allan's suggestion:  Open day 2 of the calendar before we head to Oliver in case the white requires chilling like yesterday's did. 
Good call as today's wine is JP Chenet, same brand as yesterday, this is Rose Dry.  Another bubbly wine.
We're off to visit friends, Doris and Kevin in Oliver.  They promise we will see wildlife!
It's a beautiful, sun filled drive.
Arrive and take a walk to their lake, it's a nice location.
Kevin & Doris take us for a drive to see the Bighorn Sheep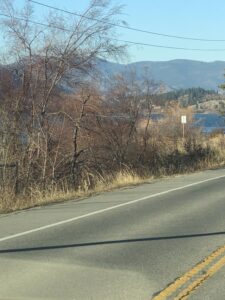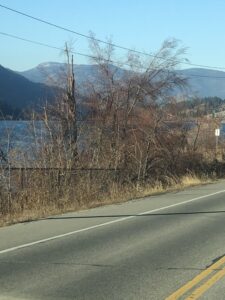 Success!  The first wildlife we've seen since leaving Ontario!
See all the "white patches" in the photos  LOL
Next stop Pappas Firehall Bistro for 1/2 price wings.
Another walk then it's time to head back.  Strongly dislike it gets dark so early.  Sunset now is 4ish.
Passing through Kelowna we spot a lit Christmas tree on the roof of a car.  She's a realtor, wish I got her name cause she rocks …
Home to enjoy Day 2 wine