Leave time: 1009a; 50,718km.
We arrive at Benchmark RV Park in Marion, after a few stops on the way about 5pm.
Back to today, Allan has about 3 hours of work to do so I am entertaining myself writing this, sitting outside in the beautiful sunshine and heat, a great change from the rain.  Just love this weather.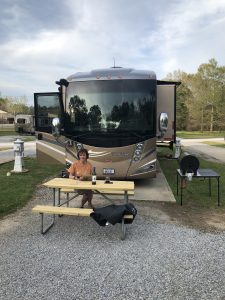 Allan's amber beer assortment ..

Wednesday was  pretty much like today.  Allan worked, I hung out.
We are getting super, duper excited because Thursday we head to Barber Motorsports Park, our first race in Bailey.