Rise and shine and indulge in a coffee with Bailey's in Bailey.   Such fun to laze.
We walk to the casino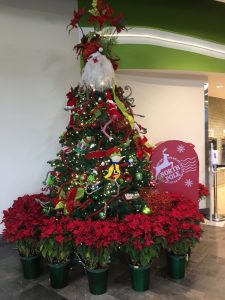 and look around for a slot machine that is calling our names.  When we were in Las Vegas we liked the "Wheel of Fortune" machines.  We find the 25 cent ones and start playing.  We are such big gamblers we each do $20/day.
Wow 948a and we up!  Cash out$52.50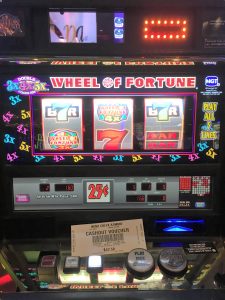 Hand out $20 to each of us and keep playing.  951a win another $62.50.  This time on the $ machine.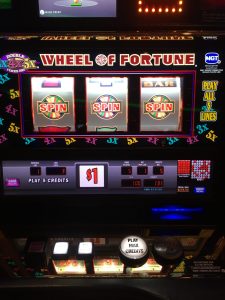 This can't be happening, we are not that lucky!  We'd better quit while we are ahead. Back to Bailey we go.  Chill a bit then walk the outside grounds.
As we are up we decide to gamble another $20 each.  316p just can't believe our luck.
We saunter around a bit and decide to go back for a bevvy and dinner.   As Allan says the @TraegerGrills smoking never gets old
Having gravy with our dinner but still no can opener.  Perhaps Santa will one!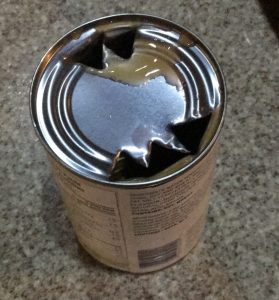 After dinner we pop back to the casino.  Select our now favourite $1 Wheel of Fortune machines,  this can't be happening! Win again 637p  $100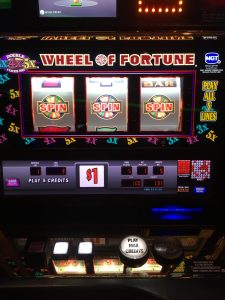 702p more wins!!!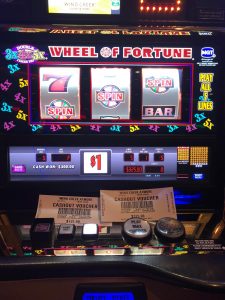 We've paid for our stay here with the wins.  Can't believe our good fortune.
Side story:  Yesterday when we were grocery shopping we selected from some meat – Allan picked up a package priced at 9 something.  I see one for $8.88 and start to walk away but then turned back and told Allan we must purchase that one for good luck. 
8 (八, BĀ) – LUCKY:  8 is the luckiest number in Chinese culture because 八 sounds like 發 (fa), which means "wealth", "fortune", and "prosper" in Chinese. Multiples of eight are even better, as 88 bears a resemblance to 囍 (shuāng xǐ), or "double happiness". While the Chinese will go to great lengths to avoid 4 in daily life, they will try to incorporate 8 wherever they can. In the Beijing summer Olympics, the opening ceremony began at 8:08 pm on 8/8/08. Since the number 8 is believed to bring good luck, many airlines in Chinese-speaking countries will use combinations of 8 as flight numbers.
I think the 8s coupled with Mom, who loved to gamble, watching over us paid off.  LOL
Back to Bailey for the night.