We hope Volocity does get the repairs done no later than 2.  We don't like driving at night, thought if we were out by 2ish we'd be able to at least put a few hours under our belt.
We walk 14 minutes away from the strip to McDonald's for breakfast. Away cause we knew it would be quieter. Wow it's cold and very windy not a fun walk, the McD's turned out to be a homeless hangout.  Oh well, can't always pick the gems.
We walk back through the casinos (some have walkways between them cause most of them are now part of MGM), a more pleasant walk.   It's now 9am.   Hang out a little longer, check out of the hotel just before the required 11am.  Off to Costco to get a few things, then back to Volocity. We knew seeing Bailey still in a bay was not a good sign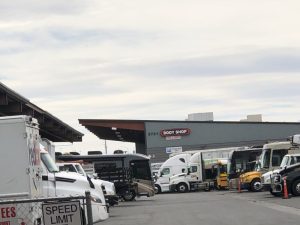 Turns out they broke the air compressor, fortunately they had this part in stock but would take time to install.  Also fortunate, they took ownership of breaking the part, cost w/installation $1,300, we would not have known if they didn't fess up.  Repetable shop 🙂
They were going to be about 2 hours, we know that means more than 2h.  It's no fun sitting around their driver's lounge so off we go to Fremont Street.
Fishies, we spot fishies.  We did this years ago, let's do it again..
It feels strange when they first "attack" but ends up being a relaxing experience.  If you get the opportunity I say it's a must do.
20k+ steps = drink time.  Allan was happy they had Alaskan Amber on draft, sad he could only have one.
lt's now 3 and still no call from John.  Back we go anyways as they close at 430.  John says another 45ish minutes.   We watch an old Criminal Minds that's on the TV in the lounge.  Finally at 422 Johns says we're good to go.
Allan's taking forever dealing with the invoice, turns out they were charging us for the part they broke, John noticed it (that's how we know it was $1300)  The delay was getting the credit.
Too late for us to head out, so another night at Chez Volocity it is!
Thought of the day!