We spent the last few days doing not much of anything.  We did get mani/pedis at "Beautiful Nails" in Seffner.
This is the view from inside,  a little cramped.  Neighbours, Jerry, Lynn and Spud the puppy are from Brampton.  Across the street is Saskatchewan.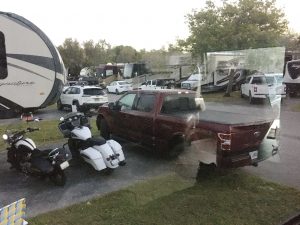 Because this park is also a dealer; there are many RVs on display – just open the door and walk in.  We saw some  super, nice RVs of all classes.
We came across a bare Freighliner chassis.  Bailey sits on one so Allan was happy to check it out.
Today is another Bailey bath day.  The last bath didn't last long.  Bailey is filthy.
These are the pretty trees, not sure what they are but the drop the red pedals everywhere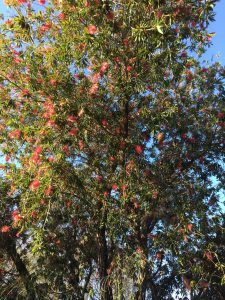 End of day jiggle