Many of my FB friends know we lost Wilf, a dear friend, Allan's best friend, since he was 14 unexpectedly on June 23rd.  The only good that came out of this was Wilf was doing what he loved.  He was on a mini motorcycle getaway with 2 of his friends.  He had over 400 people attend his Celebration of Life.   He will be more than sadly missed. We've kind of been in turmoil since.
Us in happy times
That same day we brought Bailey to Diesel Tech to get our "out of province" to become an Albertan.  Should take a day or two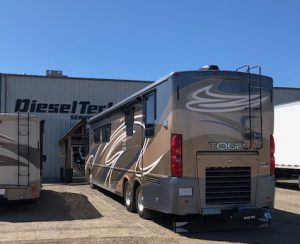 Four days later, when we still hadn't heard anything we visited Bailey.
The poor thing, stuck in the back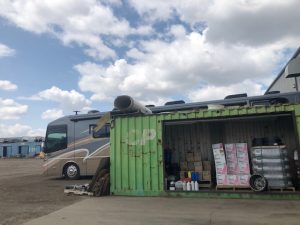 Turns out it's the tag axle bearings that require replacement.  Just our luck these were discontinued by Freightliner.  How crazy is that??
They suggest they can take it apart, and see if they can find a replacement.  We have no choice, so they went ahead.
They did find a replacement: order part.  There was a miscommunication between who ordered the part and the parts place so they only received one.  Another order placed and of course more delay.
3 weeks later, Bailey is finally ready for pick up
Bailey is an Albertan!!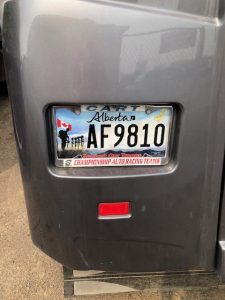 Off we go to Bailey's storage location, we wished to find an indoor location but didn't happen
Next day, off we go to Back Country RV.  They have Bailey's broken blind that we need back, we now have Allan's driver's side blind that doesn't retract, needs a fix. Just our luck they can't be repaired..  We have to order replacements from the States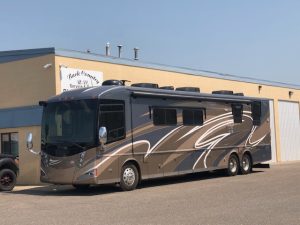 There is also an issue with the house batteries.  We thought the "out of province" would take a maximum of 2 days as a result we didn't think to unhook the house batteries.  The tech said to plug it in.  We asked at storage but no available plugs.
Bailey comes home!
2 full days of being plugged in makes no difference; batteries still not charged.  Boo!!
Back to storage Bailey goes!  .
Plan B: Spend a night or 2 at an RV park so see if plugging in to higher power will do it.  Fingers crossed!