Travel day to World Wide Technology Raceway at Gateway starting km 55,398 finally leave at 1040a..
Side note this is the first Mother/Daughter travel team we've seen.  Wish I would have thought to take a photo with them in it…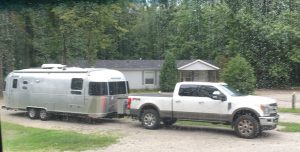 This is the worst sound when you want to leave.  Why?  Jacks are not coming up. Jacks Down.. No! Allan activates the relevel and the lower and we're good.
Off we go…
Would you like to call this home?
Definitely on the right road as it's this narrow Narrow Enough
This trip produces two things/elements.. super narrow roads and RAIN!!Traveling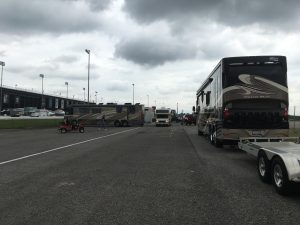 Dispute the ridiculous directions we make it, after having to U-turn, such an easy task in Bailey!!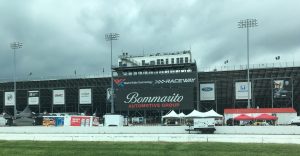 From this to this…
Beer fridge stocking time.  Shots fired!!  Allan rushes into the line of fire..
Traeger time, I believe Allan Tragers, the best upsy daisy,  bestest, moistest, meats as he has the most experience in the rain on this trip.
No rain tomorrow?