We leave Lethbridge at 9a, 69,684k.  First stop is UFA in Clareholm for fuel, DEF and a much needed Bailey bath!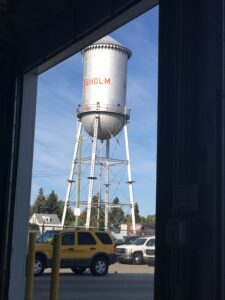 Wonder how much these super large tires cost and which vehicle they are used on 
Bailey wash here we are. First time for us washing her on our own, reading the instructions…     
Tire cleaner, pre-wash, foam brush, wash, rinse, wax, spot free rinse.
22m51s in = $34.25 almost done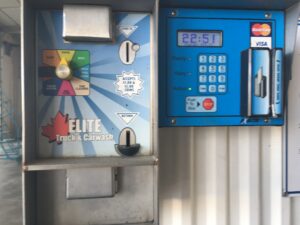 Final rinse
Total price $49.50, not perfect but much better.  Can even see out the windshield.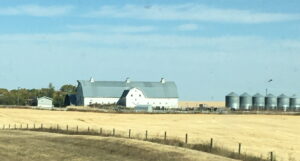 On the road again we spot this smiling face farmhouse.
Bug free windshield didn't last long!   Off in the distance, Calgary.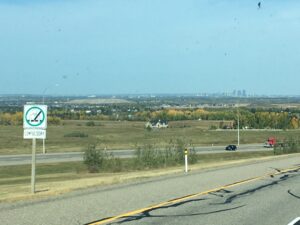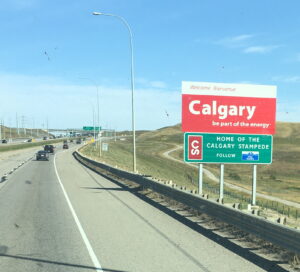 Back to the dueling GPSes,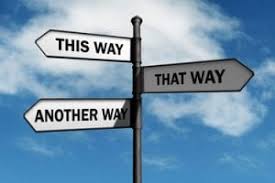 we are attempting t0 remember the tidbits Wilf told us.  Should have taken notes!  We opt for the route that makes the most sense to us.  Hum, doesn't feel right but we are committed to the exit.  We are on a road Bailey's GPS doesn't know exists and Maps isn't talking to us any more.
Should have taken a photo earlier of our savior trucker but this is him.
We latch onto him when the new road was not marked.  It didn't even have lines painted yet.  This guy had BC plates so we followed, turned out to be a good plan.  Yahoo, for the Canmore sign!  Although stressful for a bit turns out Calgary was easy to bypass.
It's a beautiful drive
Canmore!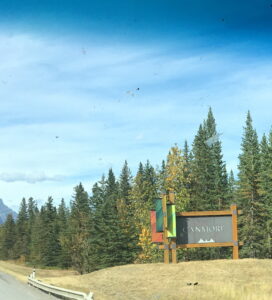 Hello Spring Creek RV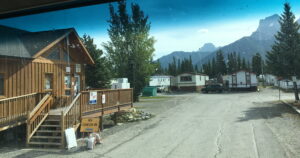 Off to our spot, D7
Set up, beautiful views everywhere!!
Insert Allan's humour.  He thought the wheelie bar on this RV was pretty funny.  The avocados speak for themselves….
Canmore bunnies!  I didn't know.  We had the same 3 visit nightly.
So beautiful!
Not so beautiful  🙁  Allan's bashed finger, think he'll lose the nail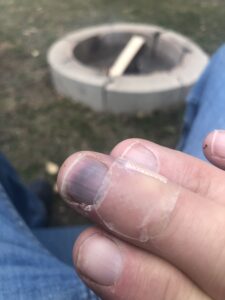 But look! A fire in the making….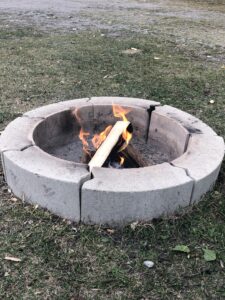 Kyle, our son, heading to the Ukraine just when we are heading to BC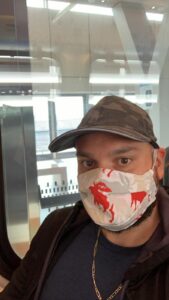 Come home safe! Sending tons of love!!