Arrived yesterday our final camp ground, Apache Junction for this trip.  Allan's project yesterday was to determine how the TV  works (last camp ground had plug in cable, so easy peasy).
Up goes the antenna and the fun begins.  All we get is static, snow snow snow.  As it turns out the TV needs to be reprogrammed from Cable to Antennae.  A quick scan of available channels and we are up and running.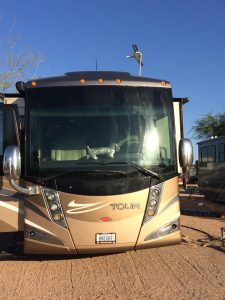 Notice the raised antenna on the drivers side.
Now time to start packing up, first thing to do is stow the antenna, but wait, it does not want to stow. We keep getting blinking lights indicating that there is an obstruction. There is no obstruction. Read the manual, now know how to manually retract. The problem is it requires me going on the roof. Anyone who knows me, knows that I don't like heights. Fortunately we have Coach-Net road side assistance so we eventually call.  Service is on the way. I keep playing with it knowing the problem is it won't turn, so it can't stow. Finally it turns and yahoo it stows. Everything else closes as expected. Check out is 11:00 AM and it is 10:58, we made it.
We are only 1 hour away from the storage facility, need to stop for fuel and bleach for the holding tanks. Walmart and Love's, here we come.
Arrive at the storage facility to find our code does not work to open the gate. just add this to another misadventure for the week. We get to our spot, plugin the 15 amp power to trickle charge the batteries. Still need to finish registrai0n for storage. Really nice people here. She sure looks a little tighter in here with the slides closed.
This weeks adventure took us through  the following states.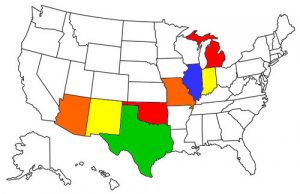 Good night Bailey, will see you again in December 22 when this blog will start to be updated again.