Friday night begins with what else?  A campfire…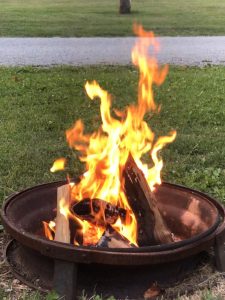 Allan has a new poker a Margaret generously donated 🙂
Thank you Irma & Tom for taking us back to Los Algodones!  The above hoodie is officially Allan's favourite.
Wish I'd remember to take photos of the folks who join us for the campfire.
Saturday afternoon:  Karaoke at next door neighbours Charlene & Rod's
My favourite! Charlene singing "Harper Valley PTA"  click Harper   
Sunday:  Off to get our 10k steps, heading to Jackson's Point. Some of the sights.​
Here's what's coming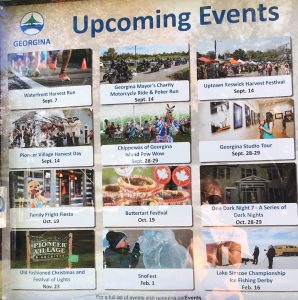 Finally, I take some photos around the fire. Heather, likely telling us where to go, her Mom, Margaret (Allan's poker donor).  Poor Kelvin got cut off 🙁 I got to get better at this.
Hummm,  what's going on with these slides?  Think a scrap guy will be pleased to obtain this trailer.
A walk around the park, Elmgrove
Cap the evening with