Today is a no drive day so how better to start it off….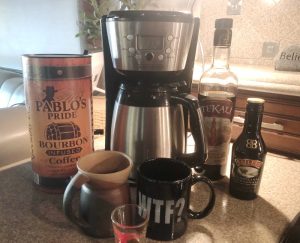 TIP!  Don't waste your money on this coffee.  It's OK with the additives without = ICK!
Not a today thing, but huge shout out to Allan.  On his "dental surgery" day in Mexico he picked up this t-shirt I liked the last time we was there. Such a Sweetie!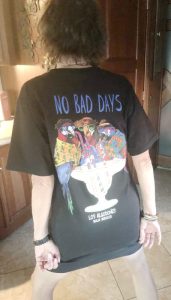 Still not about today BUT, I read a DIY tip on cleaning a dishwasher.  1 cup vinegar run on a hot cycle with no dishes.   Over the last couple of months, I've done this 3 times with the same curious results.  How does this black, gritty stuff find it's way into the bowl but no where else!?                                 Kyle you may be able to solve this 🙂
Finally!!   Back to today!  We're setting out to find a trail we can walk to as it's a no Bob day.
Right outside Bailey's door we find a white feather!! Bottom right of the photo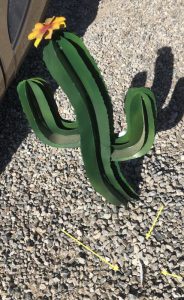 "Feathers appear when Angels are near!"  This brought the biggest smile to my face!!!! Mom/Omi, our angel is always near but so nice to be reminded!
Didn't find the trail, we would have had to turn up a street with no sidewalks, we're not fans of "street walking".  We opt to visit a neighbouring park, West Winds Golf & RV Resort.  This park is huge with 1024 sites.  We'll easily get our 10k steps 🙂
Lots of, still vacant sites.  We've heard Jan-Mar is the busiest time in Yuma, will it fill the park?
Spot Allan?   
At just under 10k steps and to give Allan's hip a break it's Reward Time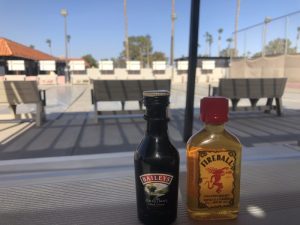 This gives me an even bigger smile, back at Bailey a few hours after the first spotting and with wind gusts over 30mph/48kph the feather is still here!!
Feather is as determined as Mom always was ❤️  Sure do miss her!

Next up is the park's complimentary turkey/ham with all the trimmings dinner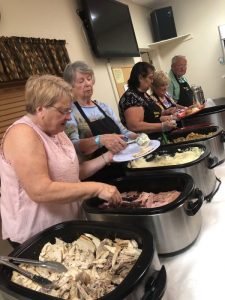 Delicious dinner shared with two fun couples.  Lots of laughs and story telling
Next, of course, hot tub where we meet up with Ricky who suggests we may enjoy watching "12 Strong" on Netflix.  We did and would recommend this documentary.
I moved "Mom feather" indoors  Feeling happy she'll be on our adventures with us!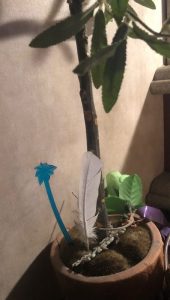 So ends our US Thanksgiving