Not much going on, the weather flucuates between really nice to really not. We have been getting our daily walks & 10k steps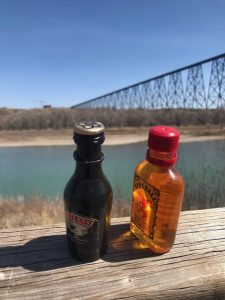 May 7th – Had a rough night of not sleeping, coughing, sneezing, get up to a wicked cold.  I'm getting by with the essentials ….
May 8th – Yahoo!!! moving from the Lethbridge KOA to Elbas Farm.  KOA was the only option when we arrived in March.  They have monthly rates so thought we were good.  Didn't know how hard the hard water really was, night tempseratures were below freezing so we couldn't hook up our water filters.  Glasses came out of the dishwash cloudy, the counter had continual rings, didn't do my OCD any good. Glad to be moving on.
The drive is 15 minutes, what can happen?  We are making 2 stops on the way over; one for diesel other for a Bailey wash.
This happened!  Waiting at the red light behind a Boots Transport tractor trailer, light turns to an advance green, the truck proceeds to the wrong side of the traffic light.  We're both, "WTF" the trailer rips off the traffic light.  He backs up and is heading to us, all the vehicles from all directions back up to allow this "yahoo" space.  All but us, we can't back up with Bob hooked up.  We were so dumbfounded I didn't think to take a photo, wish we had one.
Hard to figure out but…. we were coming from the other direction, the tractor was suppose to end his left turn on the road, instead he went between the traffic light pole & the  yellow sign taking down the traffic light.  Took this photo a few days later.  Traffic light was replaced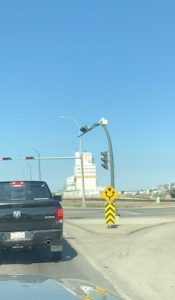 Fueling goes well, next up Bailey wash.  Went well except for all the cow poop in the bay.  We manuvered around it.  Bailey is clean again 🫧🫧🫧
Back at Elba's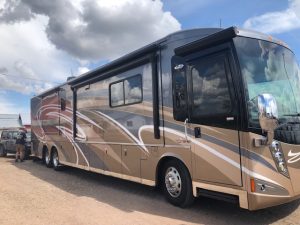 What's not opened?  Yep, the large slide, never a dull/cheap moment
The animals greet us.  Strange but we almost think "Whitey" remembers us
Changes here: no more cows,  When Ernst, the owner, was asked where they are, he responded with his classic "in the freezer"  He did say it was a tough winter and he lost an alpacas.  The 2 in the photo are new to keep Whitey company.  There are a lot less sheep but it's still a working farm.
Tonight's sunset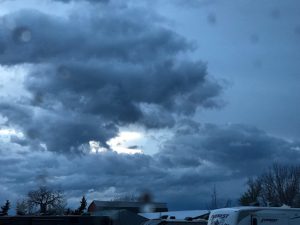 May 9th –  Sunrise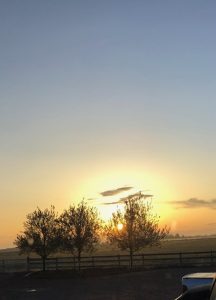 B
Back Country to the rescue!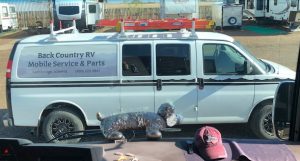 Slide opens again, fingers crossed it will close and open when we leave here.
Here's our Allan keeping the locals fed 🙂
May 14th – Mother's Day
Great day! A much needed, pedi!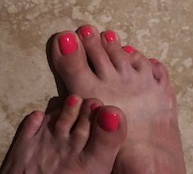 A fun call from Kyle & Megan.  2 laps around Henderson Lake, to get us close to 10k steps
Then the IndyRace, but oh POOP Allan's driver's won.  Not nice on Mother's Day!!
Then Allan made us delicious TikTok pasta with sausages.  A perfect day!!