Goodbye Creston, BC.  My least favourite town/city so far,  Allan agrees.
Why??  Not really sure cause they have a cute downtown.  Our park, Arrow Mountain RV Park, was the most "no frills" park we ever stayed at, with certainly not "no frills" rates.  Feel a little duped.  Didn't help that I got my first 2 ever, in my life, ticks! I get that is not Creston's fault but still….
These photos make it look nicer than it really is..
Our walk to town
The plus!  Best pizza Allan has ever had, and he's had many, many, many pizzas           .  Zesty Mexican for the absolute win
Fuel, 1/2 a tank over $400 – crazy and this per litre price was not that bad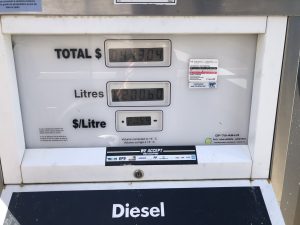 It's a beautiful scenic drive to Fairmont Hot Springs but how many photos of snow capped mountains, no snow mountains, creeks, lakes but how many photos of these beauties can one post?
No more for now, here we are, Fairmont Hot Springs RV Resort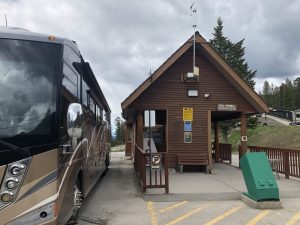 Oh great, not only is there at least one bear with her two cubs in the park.         
The check-in lady warned of a heavy tick presence because of the cooler temperatures.  
Our site #237
Bailey being bashful!   As spotted on our walk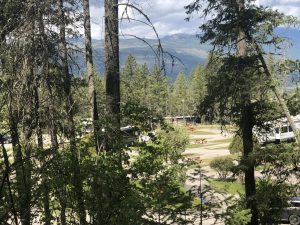 We love our hikes but I'm passing.  Bears do scare me but we are armed, ticks scare me more right now and they can carry Lyme Disease.  
Aren't we cute!!  Not planned but look at how we both positioned our hands 🙂
Next up, we meet Rocky!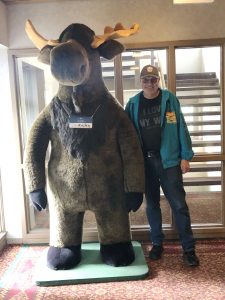 Mountain skies, very fast changing
Mini waterfall on the grounds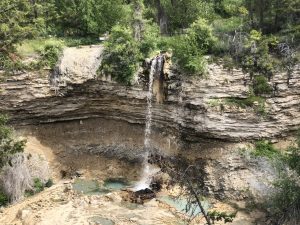 Back in the hot springs… we go at least 2 times a day.  Hot springs facts
Our after dinner visitor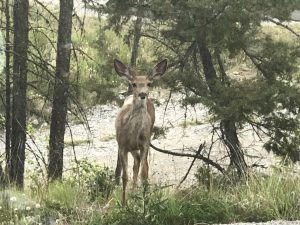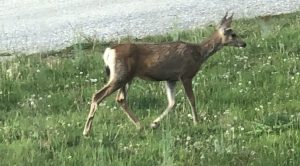 Wait! Don't go, let's have another bevvy!
June 09th – Anyone who follows us knows we do not do UPS!  Yet today, after breakfast, a hot springs visit which included a Spanish Coffee off we head down the mountain.  NUTS, for sure!!
First we spot this historical site, bath house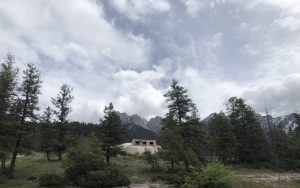 After all these years this guy still makes me smile & laugh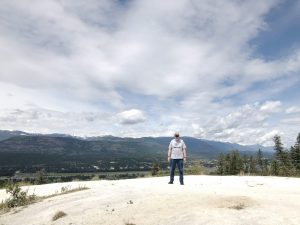 Make it down the mountain, back to Highway 93. 
Now to find a pub for a well deserved beer and wine! 
About a block down the highway we find Farside Inn.  It opens at 12, we arrive at 1230.   We are parched from the walk down and are dreading the walk back up.  Enter the Inn,  sign says "wait to be seated"  We wait the bar tender/owner says, sit where ever you want.  We'll sit at the outdoor patio.  "No not opened".  Ok we find an indoor seat.  Time to order, what will I order? You got it.  
"What do you have for red wine?"  None just sold out.  OK, not happy but order whatever they have for white wine.  Allan spotted Alexander Keith's Red on tap and we are parched.  Allan orders it "No, sold out as well"
Strike 3, we are out!!  Walk back up wasn't as bad as we thought but we did take 2 breaks.  Where the heck are the "rewards" when you need them!!
Back we head to the hot springs.  Our muscles are more than happy with us!!